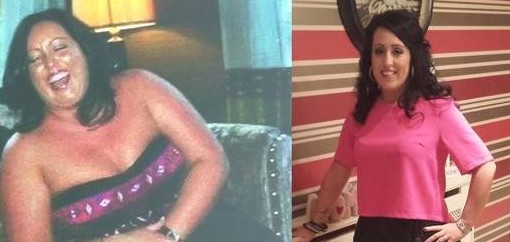 Originally published on Independent.ie
Irish mom on 5 stone weight loss: 'Old friends have to look twice to double check it's me!'
When the clock struck 12 on New Year's Day losing weight was not among the resolutions of Pamela Clarke's list as she had finally tackled the problem that had been haunting her for decades.
This time last year, the Irish mum of three from Co. Cavan had reached an all time low barely fitting into a size 18 and cringing at the sight of herself in family photographs.
The thirty-two-year-old's confidence has plummeted and her weight was beginning to affect all aspects of her life.
"I would always make excuses to friends and family so I wouldn't have to go out. Nothing fitted me and I felt nothing looked good on me.
"If I ate something that I shouldn't, I would feel so guilty!
"I suffered from low self esteem, I'd been bullied and put down by others growing up so this all affected my eating patterns."
Pamela believes her struggle with weight began in her teenage years, when she moved schools to escape a torrent of abuse from bullies. She often turned to food as a comfort, a habit which stayed with her into her thirties.
"When I was 15 I was bullied so much that I had to move schools and that started me on a path of emotional eating.
"Whenever I was sad I would reach for the chocolate or the crisps or basically anything that was bad for me," she said.
The final straw for Pamela was catching a glimpse of herself in a family photo.
"I saw photographs of my daughter's confirmation and I was so unhappy. I was on the brink of a size 18 and over 13 stone," she said.
The Irish mother credits Motivation Clinic for her inspiring lifestyle change and in one year she shed 3 stone 3lbs.
"I had tried so many weight loss programmes and personal trainers and in the end this is the only thing that worked for me.
"I felt like it was manageable without depriving myself so much. I still have my Chinese at the weekend but now, I split it with my husband. My choice have all changed and there's more of a focus on healthy fresh ingredients than I had before.
Pamela revealed that shifting this weight has completely changed her life for the better.
"I can achieve anything in my life now. I have overcome so much on this amazing journey. Friends now have to look twice to see if it is me. They say, I am so bubbly and happy now and I'm a nicer person," she said.
"I have achieved so much on a personal level this year; I never dreamt that I could unblock what was behind my weight problem for years. It's not one giant step, but a lot of little steps along the way, that gets you there. I found the programme life changing for me this year."