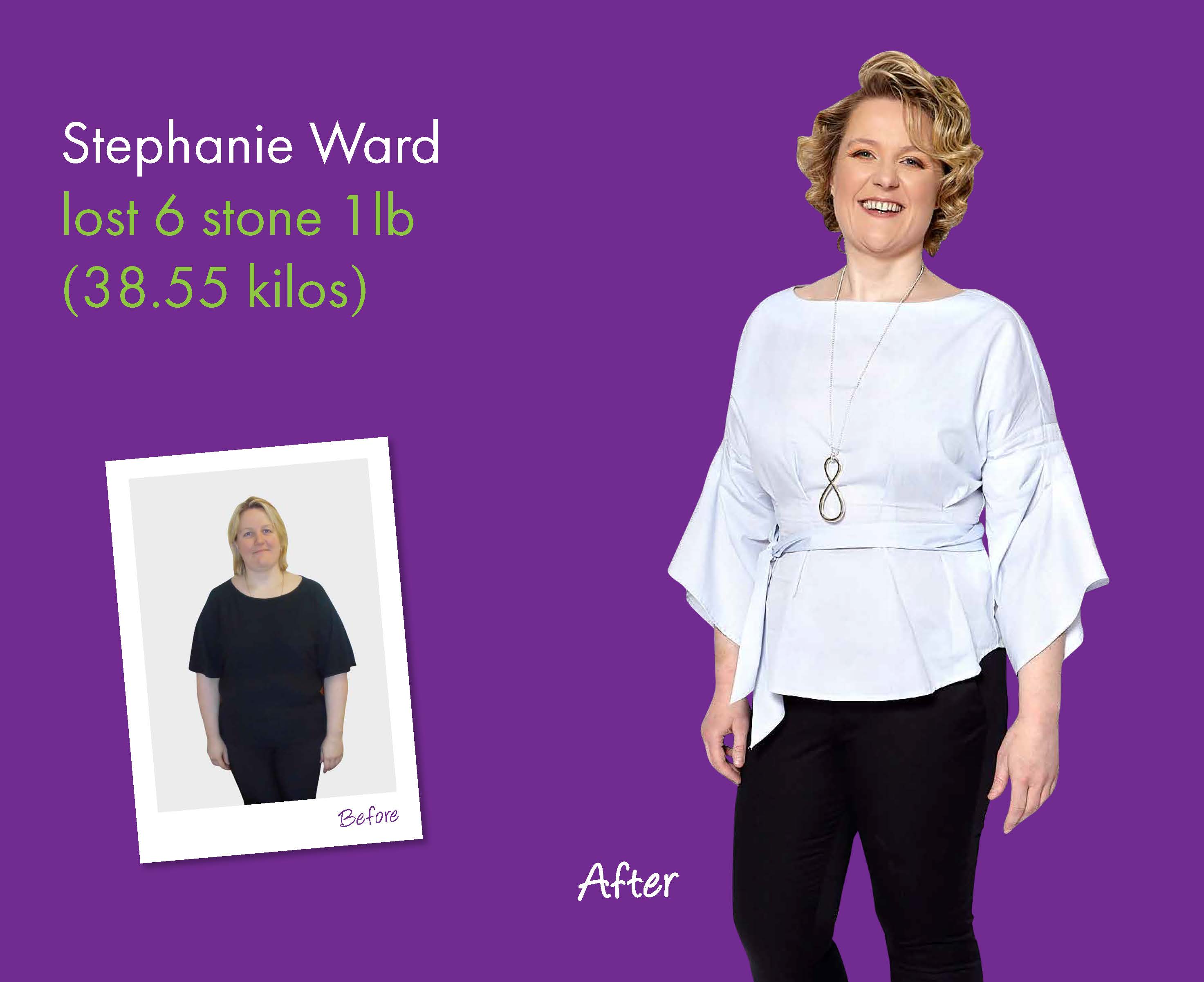 This is Stephanie Ward's Weight Loss Story
"Before losing the weight I felt miserable, unhappy and I suppose I was depressed. I had new clothes in my wardrobe that I was unable to fit into and a night out to me turned into a night of terror as nothing fitted me. I would just end up either not going out or going out in a rugby shirt/t-shirt and jeans and boots.
The jersey/t-shirt combo for comfort and to hide the "spare tyres" and jeans because they were baggy, and boots because my feet were so swollen and fat I wasn't comfortable standing in my dressy boots or shoes anymore.
Plus, I had stopped playing sports and I love my sports especially my beloved rugby.  I play for Rathdrum Women's Rugby team and I was helping out with the team on the side lines because that was all I was able to do.  I was unable to run or catch my breath when running that I just didn't do any exercise or keep up with the girls.
I joined weight Motivation last January 12 months and slowly I started chipping away at my weight, one step at a time, I started focusing on the food first and really pushing myself and trying new things. The key I found was variety; you need to keep mixing up your food. Once I had a handle on the food I then turned to the exercise and I started walking four times a week. With exercise under my belt, I next arranged my return to rugby and told my coach I could only give 20 minutes or so and could come on as a sub when needed. Come the end of the season there I was, on the starting squad and playing my full 80 minutes – no problem.
I am so happy in myself and proud of what I have done. I still set goals for myself as it keeps me focused and motivated plus those clothes I wasn't able to fit into, I do now. And all my old clothes – they are all too big for me.
Without Motivation's help I would not have been able to do it. They got me thinking differently about my eating habits and my attitude with food and why I ate which in turn filtered to the rest of my life. I found its helped me in all different aspects not just my weight.
Truth is, it is so important to be able to go in every week and offload with your weight loss advisor. If you think you have had a bad week and the temptation is not to go because of fear of the scales…….GO. You know yourself you weren't good but you need to know where you stand so you can pull it back in the following week or clear the slate and start again. If you don't go you won't know the damage, if any, you have done and you are not able to do anything about it.
If I could give any advice, hold nothing back and give it your all. Don't hide anything from your advisor as you are only fooling yourself. It's not them that wants to lose the weight, they are only there to help you."
Stephanie Ward lost over 6 stone with Motivation.
More importantly, Stephanie is maintaining her weight loss.
That's Motivation!