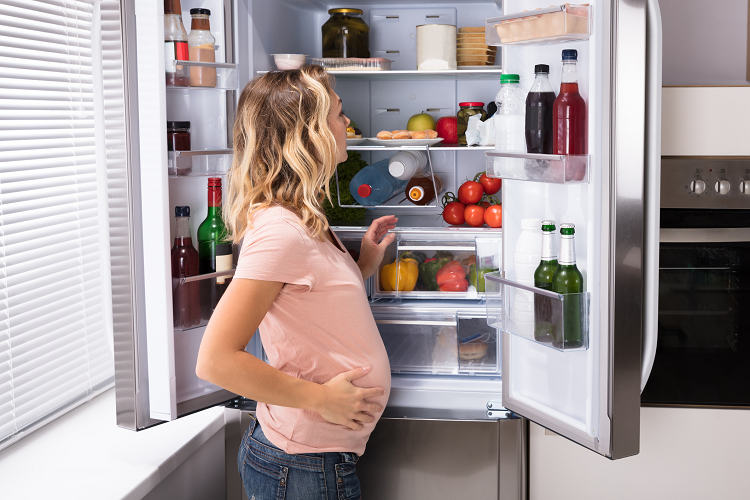 Is there a weight loss programme for pregnant women? When it comes to managing your weight during pregnancy, it is more important than ever to follow a healthy and balanced diet to ensure both you and your baby get all the nutrition you need. With this in mind, the goal of any weight loss programme should be to avoid putting on extra weight and to ensure any gain you experience is due to your baby, not you.
How Much Weight Can I Expect To Gain During Pregnancy?
This can vary according to your own body weight. If you are lean and below average weight, then a gain of around 30lbs is appropriate. If you are of average weight, a 25lb increase is recommended. If you are overweight, then your goal should be to gain no more than 20lbs.
What If I Gain More Than These Amounts?
If you gain more than the recommended amounts, then seek the advice of your doctor, obstetrician or professional weight management adviser.
Where Does The Additional Weight Go?
Your baby will account for approximately 8lbs of the extra weight. The placenta, amniotic fluid and breasts will add between 2 and 3lbs each. The remaining weight gain will be due to the uterus (2-5lbs), blood volume (about 4lbs), and fat stores for breastfeeding (5-9lbs).
How Quickly Will I Gain Weight?
Most expectant mums experience the majority of their weight gain during the first three months of pregnancy, with further growth until around 32 weeks and then slowing down over the last few weeks before birth. The average increase is between 6 and 7lbs in the first 20 weeks, then about 1lb per week, for a total average gain of almost 2 stone.
Is There Ever A Need To Follow A Weight Loss Programme During Pregnancy?
If you are very overweight or obese when you become pregnant, it may be advisable to follow a weight loss programme during pregnancy. Talk to your GP, obstetrician or professional weight management adviser who will advise you on the best way to do this in a safe and healthy manner.
Is There Any Advice On How To Avoid Gaining Unnecessary Weight During Pregnancy?
Try these 8 tips to ensure any weight gain goes on your baby, not you.
Seek the advice of your doctor, a nutritionist or a professional weight management adviser on following a healthy, balanced diet.
Keeping a food diary is a great way of helping you to stick to a nutritious diet.
Because many women are prone to unwanted weight gain during pregnancy, it is more important than ever to stick to normal, common sense advice about avoiding fast food and convenience products that are high in fat, sugar and empty calories.
Milk and dairy products offer important nutritional benefits during pregnancy, but can also cause unwanted weight gain. Avoid this by substituting skimmed or low fat for full milk, and by opting for low-fat yogurt and cheese.
Cut out calories when you drink by avoiding sweetened or sugary drinks. Stick to water and zero calorie soda or mineral waters.
Salt causes fluid retention, so avoid it where possible.
Keep active. You won't be running any marathons, but it should still be possible to take part in moderate exercise that is safe for pregnant women, such as walking or swimming. If in doubt, ask your doctor for advice.
Be positive. Remember that by following a healthy and balanced diet during pregnancy, you will more quickly return to your pre-pregnancy weight.
To speak to a Motivation Weight Management Adviser or to book an assessment consultation to find out about the weight loss programme for pregnant women, just complete the request a callback form below.