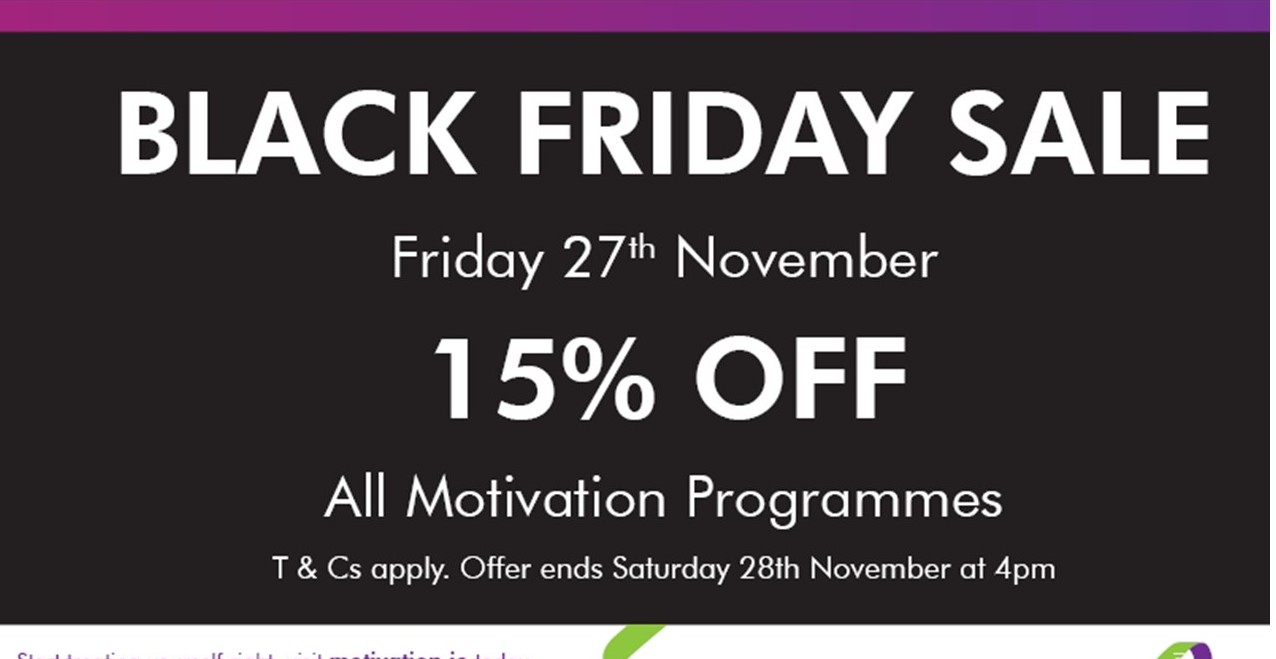 Not only is our 82% success rate a good motivation to shed the pounds, but our Black Friday discount might just convince you to turn over a new leaf. All 31 Motivation clinics nationwide are offering 15% off our whole range of programmes on Black Friday. The offer is open until close of business on Saturday 28th November. Those who want to shed the pounds can start straight away, or opt to start in the new year.
Our unique approach to weight management focuses not just on what people eat, but why, as Dr. Larocque's 40 years of study shows that the majority of people eat for emotional reasons. The Motivation program works to motivate and empower Irish people to overcome the emotional and psychological issues at the root of their overeating and other unhealthy behaviours.
Our Black Friday discount is therefore all the more valuable because it helps you learn about yourself and how to gain a happier life rather than focusing on diet and deprivation. Many people eat and drink for reasons that they're not aware of, it is so empowering to get to grips with these, especially emotional learned responses like reward (I deserve/It's the weekend) or guilt (eat/drink because I should have/could have). We also highlight physical issues such as blood sugar control, fatigue, burnout, PMT and chronic pain so that you are armed with the knowledge as to WHY you've gained weight and the strategies to take control for the future.
There is no stone unturned in our approach as we provide our clients with detailed reports on their habits and behaviours. We use these results to make improvements in ALL areas, setting realistic and attainable goals each week. Our self-enhancement approach is highly successful as reports are updated every 4 weeks and progress monitored.
Our highly skilled consultants provide constant support and encouragement alongside a CBT approach to work on unhelpful thoughts and attitudes. All our programmes include motivational tools for use at home so our Black Friday discount will see you into a happy healthy 2016 and beyond!
Elaine Crotty lost the pounds pre Christmas last year with Motivation Weight Management, she claims, "come November 2014, I decided I had to do something pre-Christmas, or my weight would spiral out of control so I joined Motivation in late November. I lost weight very quickly, almost a stone before Christmas. I still cannot believe I succeeded in tackling my weight issue before and all through Christmas"
For more information about Motivation's Black Friday offer contact your local clinic.