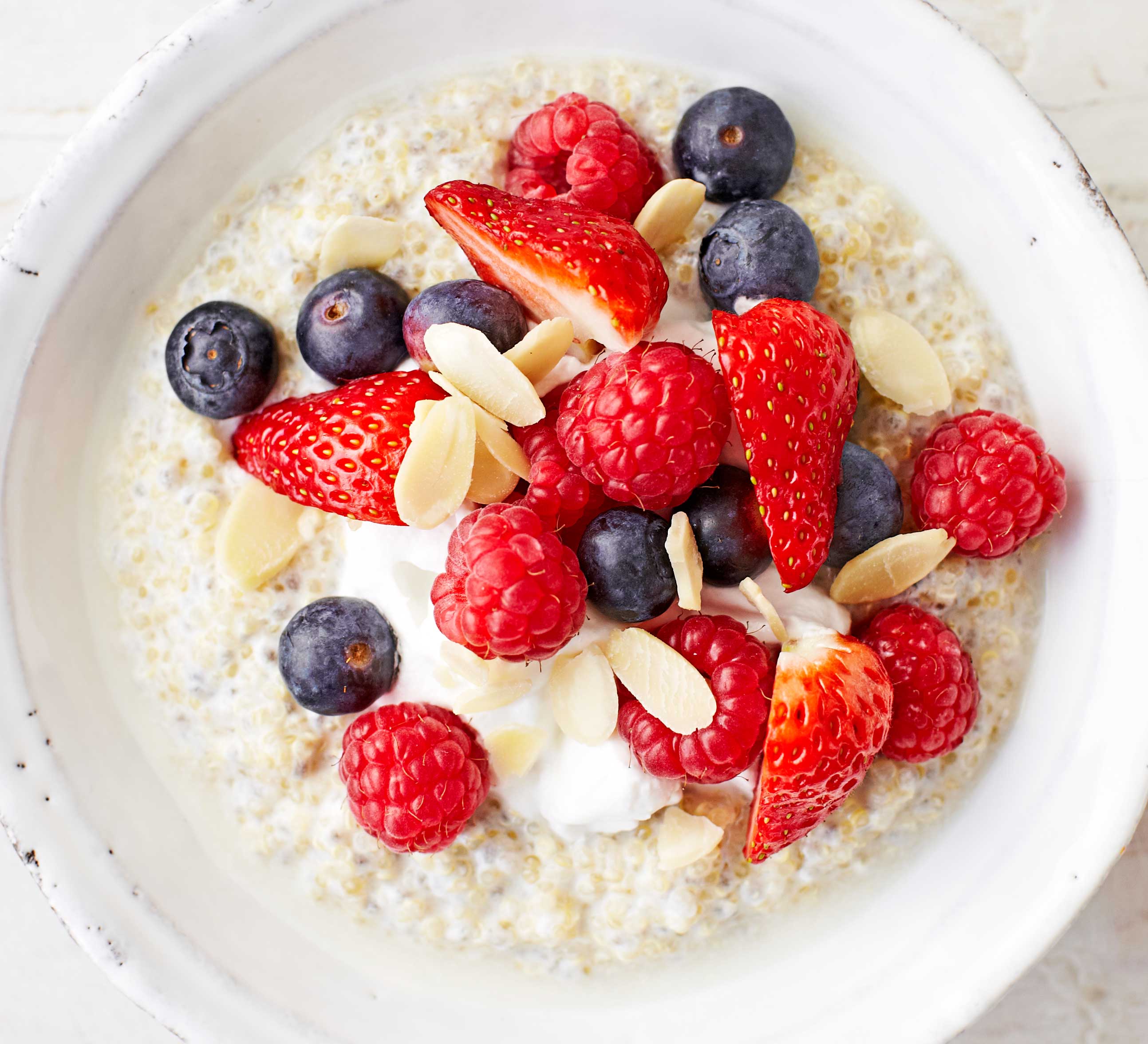 The Best Power Breakfast For Losing Weight
The Best Power Breakfast For Losing Weight: Eating a protein rich breakfast is essential for refuelling after a night's sleep, and will help keep you satisfied for longer. Protein in the morning also makes it easier to make healthier food choices during the rest of the day. Clients at Motivation often ask what is the best breakfast for weight loss, while providing energy and a sense of fullness. At this stage I've tried and tested many breakfast ideas, and have come to the conclusion that the most enjoyable, filling and low carbohydrate breakfast is protein porridge with blueberries and a vegetable/fruit smoothie blended to creamy perfection. This provides me with an avalanche of nutritious goodness and a real boost of energy to kick-start the day.
The porridge is Motivation's own recipe, an apple-cinnamon oatmeal mix which requires only the addition of boiling water and a good stir. I sprinkle blueberries on top as I love the combination of texture and flavour. The beauty of this meal is that it has minimal fat and is sugar free but provides 15 grams of protein so I am kept full for hours. For losing weight this works a treat and can be prepared in less than one minute, perfect for the morning rush.
While the kettle boils for my porridge, I have perfected the art of the green power smoothie which gives me an incredible energy boost. I love the nutri-bullet and its ability to blend down so many fruits and vegetables to a smooth drink. For losing weight I recommend using two to three green veg and two fruits. I like to use a large handful of spinach, five or six slices of cucumber, blueberries and strawberries and a dash of cold water. The beauty of the bullet is that you can basically throw in anything, even if it's past its best. Other ingredients that taste good and are highly nutritious include kale, celery, broccoli, carrots, mangos, plums, pineapples, bananas, ginger, oranges and avocados. Chuck in what you have in the fridge, push the cup down and enjoy! This liquid fuel will feed every cell in your body and the water contained in it will help to transport live nutrients and flush rubbish out. This drink is loaded with anti-oxidants, fibre, vitamins and minerals. You will feel the live energy going through your body and notice greater vitality, healthier nails, skin and hair, and improvements in digestion and bowel health.
So there you go, a breakfast that takes one minute to prepare, tastes good and produces amazing health benefits. It works a treat for losing weight and is guaranteed to MOTIVATE you to get active and eat well throughout each day.
For another healthy breakfast, check out our baked eggs and spinach recipe here.
AND FOR MORE INFORMATION ABOUT HOW MOTIVATION CAN HELP YOU REACH YOUR WEIGHT LOSS GOALS CONTACT YOUR LOCAL CLINIC.