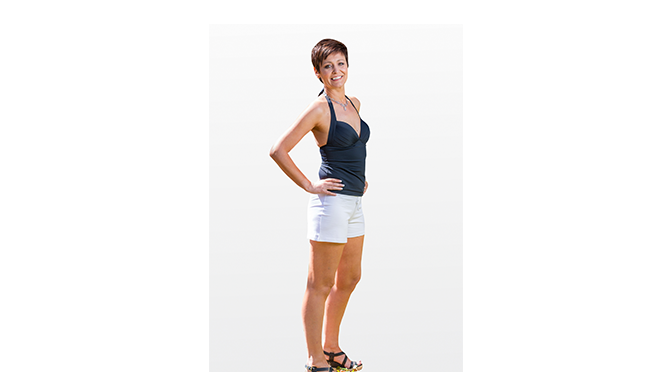 What others saw in Elaine's physical appearance couldn't have been further away from what she saw in herself. On the outside she appeared as a confident, bubbly, attractive girl with great style and a nice figure as well. The problem lay in the fact that Elaine was terribly unhappy as she was eating the wrong things at the wrong times and basically felt out of control. She knew that the consequences of these behaviours would make her even more unhappy, but dealing with emotional trauma and life events made her feel that she just didn't care. Inevitably the daily crutch of sugar and fat started to show on the scales, and clothes began to tighten. Still there didn't appear to be a weight PROBLEM as Elaine gained over a stone but still looked good to others. She learnt to avoid photographs and had the knack of wearing loose, flattering clothes, so could easily have continued that way with the thought that she "wasn't that bad".  The problem lay in Elaine's thinking where there was a battle of wills. The "not being that overweight" meant she was in denial regarding the self-destructive eating habits. Her back wasn't to the wall in terms of health problems, mobility or physical pain, and yet here was a girl who was suffering mentally with guilt, sadness, and plummeting self-esteem. Knowing what to do and not doing it may sound irrational to some, yet that's exactly what happens when we're lacking MOTIVATION.
Thankfully Elaine reached a point of realising she needed help and came into Motivation in November 2014. She felt apprehensive at first and appreciated the empathy and assurance that she was in the right place. She wanted to lose a stone and a half, but knew that a diet alone was not the answer. Elaine used our unique Mental Weight Questionnaire to gain an understanding of her habits, attitudes, behaviours, stress levels and emotions. This tool is a measurement of psychological weight and at the beginning Elaine's was at 17stones 10lbs. Although her physical weight was a lot lower, this shows how unhealthy her habits and attitudes were, comparable to someone of nearly 18 stones. Had Elaine kept going, her physical weight could potentially have reached that level.  Taking one area at a time Elaine improved her eating habits and used her one to one sessions along with reading and listening at home to improve her behaviours in relation to boredom, loneliness, perfectionism, guilt and low self-confidence. Her Motivation level soared as she focussed on all that she had to gain not what she had to give up.
Within 1-2 weeks Elaine felt mentally in a much better place as she'd taken control of the situation, and physically better after 2-3 weeks as started to see the results from her weight loss.  She found our books very inspirational as she could relate to the fact that we learn reactions as everyone has their own battles to deal with.
She enjoyed the food plan, especially as she suffered no physical hunger and had more energy in response to better nutrition. Elaine became more organised and learnt that a little preparation goes a long way.
Not everyone has a lot of weight to lose, but it doesn't take a lot to affect how we feel about ourselves. Elaine has had a weight loss of 20lbs* and has shrunk by 20 inches! 17lbs of that loss was pure fat and Elaine's metabolic age has gone from 53 to 34 (real age 42). Most significantly, Elaine's last Mental Weight had dropped to 9stones 7lbs depicting a healthy, positive mindset. She has regained her confidence and describes herself as "a calmer healthier person who is a lot more conscious of what I put into my body."
Elaine has a lean, toned body and is delighted with her new shape and size. She is lighter psychologically as she continues to use the tools and address unhelpful thoughts. Elaine is confident that she can stay this way for years to come and is delighted that she took action to stop sabotaging herself and accept that it is not what we eat, but why. She feels she could not have done it on her own and says Motivation helped her "reset her attitude to food, which has been very definitely for the better."
* Results achieved by following a tailored programme. Weight loss results may vary from person to person.