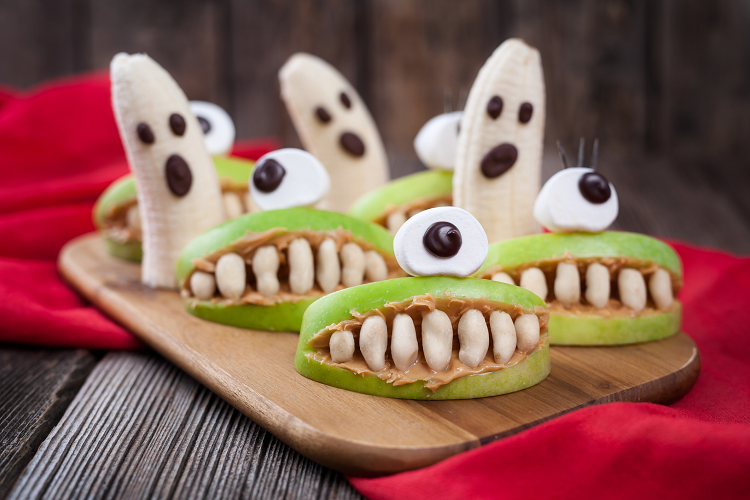 This podcast provides some great tips and tricks to help you and your children to get through halloween in as healthy a way as possible.
When it comes to trick or treating we can only trick the kids so much. We need to think clearly and cleverly about the best ways or means to get their buy-in so that they don't feel let down or excluded from the festivities. Key among this is first and foremost to focus on the things that the kids like – popcorn, little bottles of water, the simple stick on tattoos, etc, and for the older kids, sugar-free gum is a great alternative.
By the way, no one says working with your kids to reduce the volume of sugar at halloween is easy. We are being heavily promoted to with bigger, special-value packs so both parents and kids alike have expectations that bigger is better.
The simple answer if sweets are on the list is to go for the best quality. You'll buy less but as a consequence, you'll also give out less. Funnily enough, the parents in turn will be grateful that you've only given their kids a few (high-quality) sweets.
This approach takes the emphasis off quantity.
Another approach worth considering is not to let any sweets make it to the bedroom. It's like screens, you can't monitor what you can't see.
This next section tells you something about your age but consider taking some of the emphasis away from sweets and putting it on some 'old fashioned' games:
– Pumpkin Carving
– Spooky Stories
– Pass the Apple
– Bobbing for Apples
– Pin the Donkey
– Bairín Breac
Another alternative is to get the kids to separate their favourites and non-favourites into piles and only let them keep the favourites.
Also, if we can help the children to accept non-oral rewards / treats at Halloween this will turn out to be an important lesson that will stand to them into adulthood.
Tune into this week's podcast below to find our more….
Podcast: Play in new window | Download
Subscribe: RSS