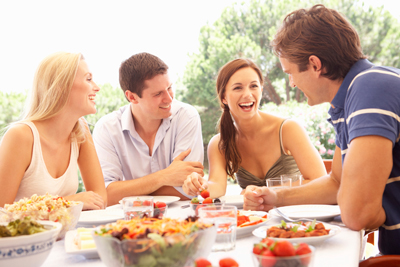 Personally, I find it's always easier to eat well in summer, when there's lots of great fruit and veg in season and the weather doesn't have me constantly in the mood for carbs! The downside however is summer is also a time when everyone likes to get social and the dreaded buffet table rears it's head! Just one plate of fattening party food is enough to undo a week of good work.
So what's the best way to navigate the buffet table at a party and stay on track? Well over the past couple of years I have developed lots of clever strategies to help me cope with the bank holiday party circuit.
Here's a few of my tips and tricks….
It might sound silly, but try and sit as far away from the buffet table as possible – the further away from the buffet table you sit, the less likely you are to make return trips.
Instead of concentrating on everything you can't have, focus on one thing that you know you can have and load up on it at the start.
Use a small plate and load it up with free veg and salad then add lean grilled meat or fish.
Stick to water or dilute a glass of wine with sparkling water to make a spritzer.
Slow mindful eating is the way forward. Aim to have just one plate of food and take your time to enjoy it, rather than wolfing it down and going back for another plateful.
Help out the host/hostess and bring along a healthy dish to the party that is easy to divide into portions and is waistline friendly for you too. That way, you can be comfortable going to the party knowing that there will be at least one dish you can enjoy healthily.
FOR MORE ABOUT HOW MOTIVATION CAN HELP YOU REACH YOUR WEIGHT LOSS GOALS CONTACT YOUR LOCAL CLINIC.