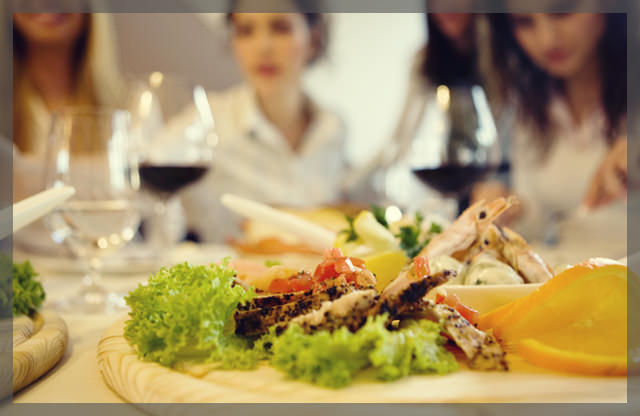 The long weekend is upon us which means an extra day of play or rest to enjoy which makes us very happy. However, we know that for some people who are trying to lose weight an extra day of "leisure" can make it harder to stay on track when it comes to healthy eating. We've put a little guide to beating bank holiday eating together to help you get through those times when you might be most tested. We've identified 3 situations where this might be the case.
The first place our guide to beating bank holiday eating might be required is in your local shopping centre.
According to research Irish people spend over 2 hours a week in Shopping Centres – more than enough time to give in to the temptation of food courts, cafes and restaurants at the heart of these centres.
To avoid the trap of temptation here you can:
Know what you are going to eat before you leave the house. If you're unfamiliar with the options in the shopping centre, take a few minutes to look it up online earlier in the day. If you're meeting friends, make a plan in advance so that you're not drawn to somewhere you know doesn't suit your eating plan and somewhere that will leave you with few or no healthy options.
Go for a meal rather than a snack and choose something truly satisfying like a chicken salad or a tuna fillet accompanied by grilled vegetables or a stir fry.
Wherever you choose to eat avoid the bread basket, butter, creamy sauces and dressings. Go for balsamic vingarette and tomato based sauces. Use a small amount of salt and pepper to season food.
The second place our guide to beating bank holiday eating might be helpful is the BBQ or Party.
One of the best ways to spend your leisure time is with family and friends in intimate gatherings. The temptation with BBQ's and parties is the array of finger food and buffet spread and the fact that you can eat as much as you like without restriction. It takes a lot of willpower when the food is staring you all afternoon or all evening.
Willpower alone may not be enough so you can also:
Eat a protein snack about 30 minutes before you go to the party. You'll have 10 times more self-control.
Know that you can stop once you've "gone too far" in your mind and don't throw it all away by going further. An extra calorie is an extra calorie, so just because you've popped a couple of cocktail sausages, there's no reason to eat another 10.
Take stock and let yourself feel full. Start with a small plate of whatever you fancy, but don't go back for more until at least 15 minutes after you have finished eating. You'll most likely feel satisfied by then and you won't need a second helping.
Don't forget why you are there? You are mainly there to socialise, to catch up with those closest to you. It's not just about the food. You can focus on your goals and still have a great time.
Some advice on alcohol:

Best non-alcoholic option: Sparkling water with a dash of lime cordial.
Best everyday drink: A 12-oz bottle of light beer or 4-oz. glass of wine will cost you approximately 100 calories. The problem is that today's wineglasses can hold twice that much so you're probably consuming twice as many calories without realizing it.
Best special-occasion cocktail: A glass of champagne (85 calories per 4-oz.) trumps just about everything else. Something fancier like a chocolate martini with vodka, chocolate liqueur, cream and crème de cacao has about 440 calories. Definitely one to be avoided.
Best mixers: Have your vodka or rum (96 calories per 1.5-oz serving) with diet coke or Sprite Lite, or sweeten tonic water with a slice a lemon or lime.
The last place our guide to beating bank holiday eating will come in handy is your very own couch!
This cosy, comfortable piece of furniture is a perfect place to retreat to after a hectic week. It is also prime location to overeat and pile on the pounds.
But there's plenty you can do to avoid that:
Instead of sitting down to graze in front of the tv, have a satisfying meal before you settle in and wait 30 minutes before reaching for anything else. Hopefully you will be so interested in what you are watching you won't need anything.
If you do fancy a snack steer clear of typical tv snacks such as popcorn, crisps or ice-cream and instead chop up some fruit or vegetables and use Glenisk fat free natural yoghurt as a dip.
Have a large glass of water beside you and every time you are tempted to eat something make an effort to drink the water first. This should reduce your hunger and desire to snack.
If you're veer off track, don't dwell on it; you can always get back on track at the next meal. Believe in yourself – you can do it! Have a safe and happy bank holiday weekend.