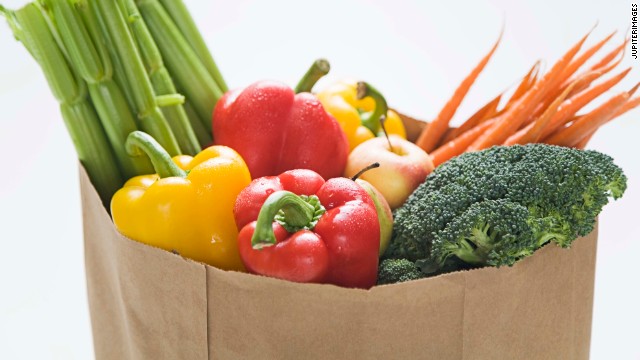 Some argue that the reason for people not eating healthily is due to cost, claiming it is more expensive than purchasing cheaper, processed alternatives. In fact, if you think about it and are clever in your choices, it is not only possible to enjoy a healthy diet for a low cost, but can be even cheaper than buying the non-nutritional, high sugar, fattening options.
This misconception drives families to the freezers and middle aisles of supermarkets when in fact the food that is boxed or packaged is usually bland in colour and offers little or nothing in the way of nutrition. People wonder why they feel low, lethargic, are overweight, have skin and digestive problems, and have the drive only to get from the couch to the deep fat fryer or microwave! Extreme as it sounds, children are suffering from malnutrition, and the horrible effects of artificial additives and preservatives. How can we blame children for poor behaviour, apathy, hyper activity and aggression when the food we are giving them is totally responsible for their reactions? We set the example for young people. They observe our behaviours, our food choices and follow suit. No matter what our financial circumstances there are hundreds of affordable, healthy food options available…..
A lot of our processed food choices come down to habit, convenience and laziness. I hope the following tips can convince you that no matter how busy or tired you can enjoy good wholesome healthy dishes at an extremely low cost.
Make sure you have the basics. A non-stick wok or pan (approx €6.50), a casserole dish with lid (approx €7-€20), Tupperware containers for freezing (approx. €1.50 for 6 in Dealz) and a set of saucepans and utensils (knives, scraper, measuring jug etc). A blender is useful too but not essential (approx €20-€30).
Try to buy a whole chicken at least once per week; the size depends on the number of people (large for 4-5 people). This can be cooked in foil and served with veg and potatoes. With the leftover chicken line the base of a casserole dish. Power boil broccoli for 10 mins and layer over the chicken. Pour over a tin of chicken soup mixed with a tablespoon of light mayonnaise and grate cheese over the top. Bake in the oven for 30 mins at 180 degrees… For a total cost of €12 you have a healthy Sunday lunch for 4 and chicken broccoli bake for 4 on Monday. 8 healthy meals for €12 equal €1.50 each.
Most supermarkets have great offers on fruit and veg every week. You can get them for as little as 50 cents. There are many quick ways to enjoy these, especially in soups and smoothies. Fruits such as strawberries, blueberries, grapes, melon, and bananas can all be chopped up for lunchboxes (for adults and kids) and any leftovers can be dropped into a blender. Add a few slices of cucumber or spinach (€1.50 for a large bag), a dash of pure orange and some water and whizz for one minute. This gives 3-4 glasses of delicious, nutrient rich tasty smoothies which are totally natural and make you feel great. This works out much cheaper than buying ready made bottles of juices or smoothies which can be full of sugary yoghurt and provides lots of vitamins and iron. Also if you have fruit which is too ripe e.g. black bananas there is no waste as the riper the fruit the sweeter the smoothie!!
A pot of homemade soup is one of the cheapest and easiest things to make and can be enjoyed by everyone. You need a packet of soup mix (small pack of barley and lentils), 1-2 bags of soup veg (€3 for 2), 2 chicken stock cubes and a small tray of chicken. Soak half a cup of soup mix overnight. Rinse and put in large pot. Add 1 pint boiling water. Boil for 10 minutes. Add veg plus stock cubes in 1.5 litres boiling water. Boil for 20-30 minutes. Cut in raw chicken with kitchen scissors. Cook for further 20 minutes. €10 for 5-6 bowls of tasty homemade chicken veg soup…A meal in itself.
Omelettes are cheap, easy and full of protein to keep you going. Buy a large tray of eggs (20 for approx €3). Whisk 4-5 eggs in a jug. Chop up your choice of the following: 6-8 mushrooms, 3 slices of ham, 2-3 tomatoes, 1 courgette, 1-2oz cheese, 1 onion, green and red peppers, spinach (add last). Add veg to pan with a drop of olive oil. Toss for 1-2 minutes. Add in spinach. Cook for 1 further minute. Pour egg in. Meanwhile turn on grill to medium heat. Cook over low heat until sides start to cook and curl up. Put pan under heated grill for 1 minute. This is enough for 4-5 servings. Cost per meal = €1.
Minced meat is versatile and tasty, and if cooked in bulk can be used for 2 or more different recipes. From a health point of view try to buy the leanest mince possible, ideally 90% lean (1kg or 2x500g trays = €8-€10). Brown mince in a large pan (always drain off excess fat after 10 mins cooking). Put half in a separate container. Pour in a tin of tomatoes, 1 chopped carrot, I chopped garlic clove, 1 onion (chop and soften in microwave first), some Worcestershire sauce and some tomato puree. Simmer for 20-30 minutes. Cook spaghetti or make a side salad and serve. This is enough for 3-4 meals and average cost = €1.50. Freeze remaining portions in the plastic containers. Add remaining mince to an onion (fry onion in a little oil for 2 minutes first). Add 2 teaspoons of cumin (available in spice area of all supermarkets), a little chilli, 1 tin of tomatoes, 1 tin of kidney beans, 1 beef stock cube in 1 pint boiling water, and salt & pepper. Boil over high heat until most liquid has boiled off. Serve with rice or salad. Freeze remaining 3 portions for another time. Cost per meal = €1.50. Batch cooking like this saves time, energy and money. So cheap and easy, and so much healthier than processed alternatives.
I hope these ideas prove the point that healthy eating can be achieved by anyone for a very low cost. This is not to mention the savings in terms of Doctors bills, medications, life assurance etc. Be clever, try new things, and get familiar with herbs and spices. Ditch the soft drinks, water is free! You will feel and look so much better and enjoy your whole life as your body thanks you for giving it what it needs!!
AND FOR MORE INFORMATION ABOUT HOW MOTIVATION CAN HELP YOU REACH YOUR WEIGHT LOSS GOALS CONTACT YOUR LOCAL CLINIC.