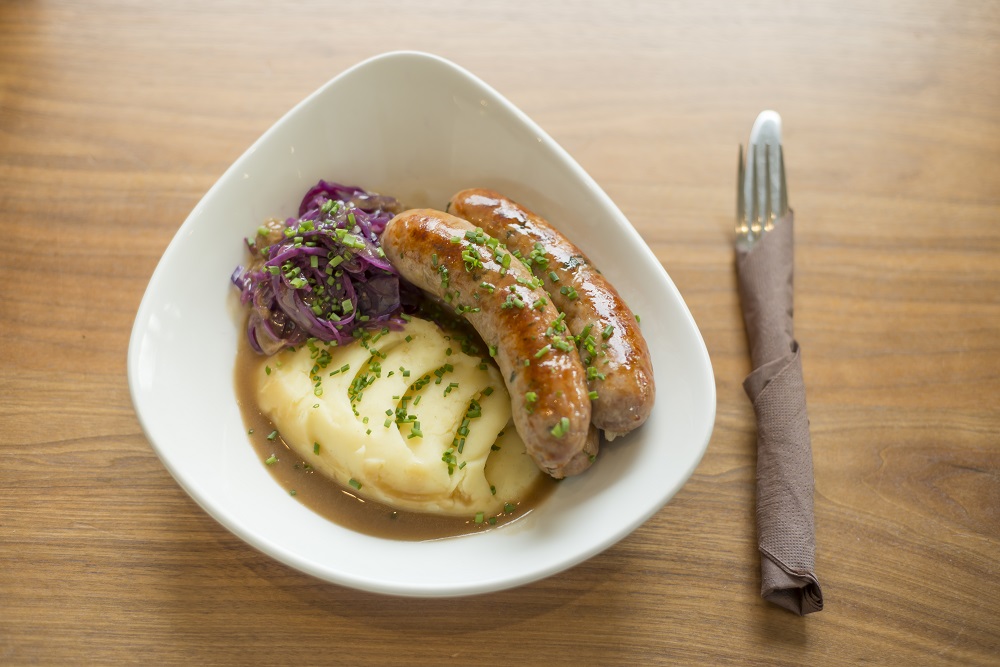 You know, a lot of people have this crazy interpretation of what a diet it.
They seem to think it's all rabbit food and leaves – cold with no taste.
But that's just not true! Personally I could not live without my hot food, I love a good hearty stew, and a nice roast chicken dinner or a nice hunk of salmon with veg and onions and I make sure I have at least 3 hot meals a day!!!
You see, you NEED to feel satisfied in order to be in any way successful with weight loss, and if your not feeling satisfied you need to find the foods that suit you and play around with menu options.
For instance, my favourite food in the world is mashed potato and sausage with gravy and onions  or in layman's terms, bangers and mash – this is my comfort food and I adore it.
So before Motivation Weight Management this would be my bangers and mash recipe for one:
Serves 1
Time 2omin
Protein 2
Carb 1 1/2
Fat 1
* 4 large potatos
* Large table spoon of butter
* ¼ cup of full fat milk
* And a handful of spring onions
* 4 Jumbo sausages
* A full onion
* And 2 large spoons of gravy mix in water
* All washed down with a pint glass of Fanta
Again, the above was just for one person.
Now, I don't want to give up my comfort food, and nor do I have too, I simply changed it up:
* 2 Medium potatoes
* Sprinkling of pepper
* Handful of onions chopped and fried in low cal spray
* 2 x Turkey sausages
* 1 Teaspoon of gravy mix with 4 ounces of water
And boom!
Job done. Bangers and mash the healthy way.
A fraction of the fat, but still a yummy concoction of comfort food.
Motivation Weight Management is all about using your brain, and coming up with meal plans that you'll enjoy and that will make you feel satisfied.
Once you get your head around that, you'll never ever feel hungry, this will also help you to maintain a healthy weight once you have reached your target.