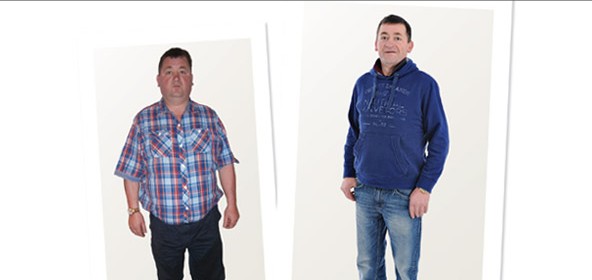 Wexford man Frank Cullen (52) had been trying to lose weight unsuccessfully for 10 years and was on medication for diabetes, blood pressure and cholesterol. At 17 stones 10 lbs but with a slight frame, he was advised that he had the body of a 66 year old man, a BMI of 37.7 and his body fat was a whopping 42.5%.
When one of his sons warned Frank he might not be around to see his grandchildren growing up, he knew had to do something about his weight once and for all and in May 2012 he nervously went for an assessment in the Wexford Motivation clinic. Now after a six stone weight loss and off all medication Frank has his life back.
"My boys are always on my case – not about my weight but for wearing their jeans and hoodies and taking their tracksuits for the gym!"
Frank Cullen had been steadily putting on weight for 30 years. In 1996 when his marriage broke down, he took comfort in food and the weight piled on. As his health began to deteriorate, he knew he needed help but didn't know who to ask.
His first grandchild was born in 1999 which was one of his proudest moments followed by a second grandchild in 2000 but as they got older, he found it harder and harder to play with them like other grandfathers."I would be severely breathless after only a couple of minutes with them", he said "this broke my heart and even though I wanted to get up and get out and do something about it, I was conscious of how heavy I had become and was falling more and more into a deeper depression."
Frank's Weight Loss Success Story
He tried dieting and then joined a gym and shed three stones but when his mother died in 2010, he turned back to his old friend, the fridge, and piled on 5 stones leaving him with type 2 diabetes, high cholesterol, high blood pressure, anxiety and depression.
He suffered breathlessness and was finding it difficult to carry out basic tasks in his job as a farm worker and life had sunk to a new low. When a friend told him about Motivation, Frank took the plunge and called the Wexford Clinic and this was the call that changed his life.
By December 2012 in just 7 months, Frank lost an incredible 6 stones and 2 pounds* and feels like a new man.
"As my weekly sessions progressed, I got lighter and lighter losing anything from 4 pounds to 11 pounds per week. I didn't find the programme difficult, all it took was for me to realise I had a behavioural problem with food. I now weigh 11 stones and 8 pounds and haven't been this light since 1979. I am off my diabetic medication and blood pressure medication and cholesterol is now normal. I am fitter and more confident and feel much happier and healthier. I take daily exercise and I am now on a maintenance programme with Motivation. I used to hate shopping for clothes as most shops don't stock XXL and XXXL but now I am a medium and enjoy buying new clothes"
* Results achieved by following a tailored programme. Weight loss results may vary from person to person.
To speak to a Motivation Weight Management Adviser or to book an assessment consultation, find your local clinic contact here.