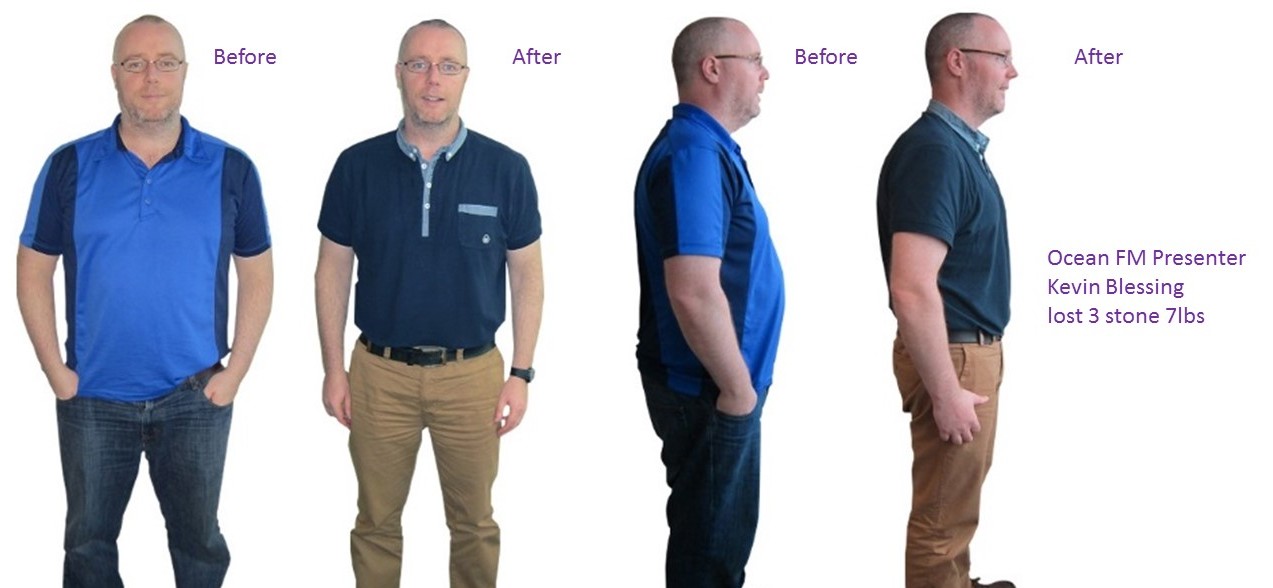 Sligo man and Ocean FM Presenter – Kevin Blessing – feels like a new man!  The presenter of the morning Breakfast Club Show at Ocean FM who once didn't have a breakfast, instead lasting all day on 16 cups of coffee, now knows well how a good breakfast can mean a slimmer, healthier and better self!  Kevin who nine months ago weighed 18 stone 6 Ibs is now thrilled with his successful weight loss and new slimmer self, now weighing 14 stone 3 lbs.
Kevin comments, "Being a radio presenter is a high energy job and while you are not moving around, you do feel drained at the end of the day.  I'd head home and sink into the couch and eat way too much rubbish! I had no motivation to exercise, my sleep was affected and I was in a vicious cycle of feeling constantly exhausted."
Things changed for Kevin when he married his wife, oncology nurse Áine in 2013. Áine had a big impact on Kevin's life managing to turn his health and lifestyle around completely.
In the same year Áine convinced Kevin to give up cigarettes, having failed on many previous attempts.  Being a radio presenter, the only part of Kevin getting exercise in his sedentary job was his mouth!  Kevin's weight had gradually crept up to 18 stones 6lbs!
Áine continued on her mission to look after Kevin's well-being by gifting him a membership for Sligo Triathlon Club for Christmas 2014. So Kevin decided that 2015 was the year he would commit to getting fit and healthy with the help of our Sligo weight loss clinic!!!
Kevin continues, "Really for me Áine's Christmas present of membership to Sligo Tri Club was my turning point. I started with a turbo class once a week.   After 3 months exercise I had lost just 10lbs on the scales – It made me realise that I really needed to address my diet and just shed the excess weight once and for all!"
Kevin decided to join Motivation and soon he realised where he had been going wrong. He comments, "I realised some of the mistakes I'd been making, especially my lack of routine around food, often surviving eight hours on just coffee (about 16 cups with milk and sugar!), and then devouring chocolate bars at night to satisfy my overwhelming hunger.  Motivation helped me create a structure to my day, eating up to six times, thus avoiding the blood sugar dips and resulting ravenous hunger."
Kevin succeeded in losing 3 stone 7 lbs on his twenty week programme and combined with his previous weight loss of ten pounds, his new weight is 14 stone 5 lbs!  Kevin finishes by saying, "I'd highly recommend Motivation to people – it's so rewarding."
If, like Kevin, you want to change your life, call your local Motivation clinic for further information. Gift vouchers available.