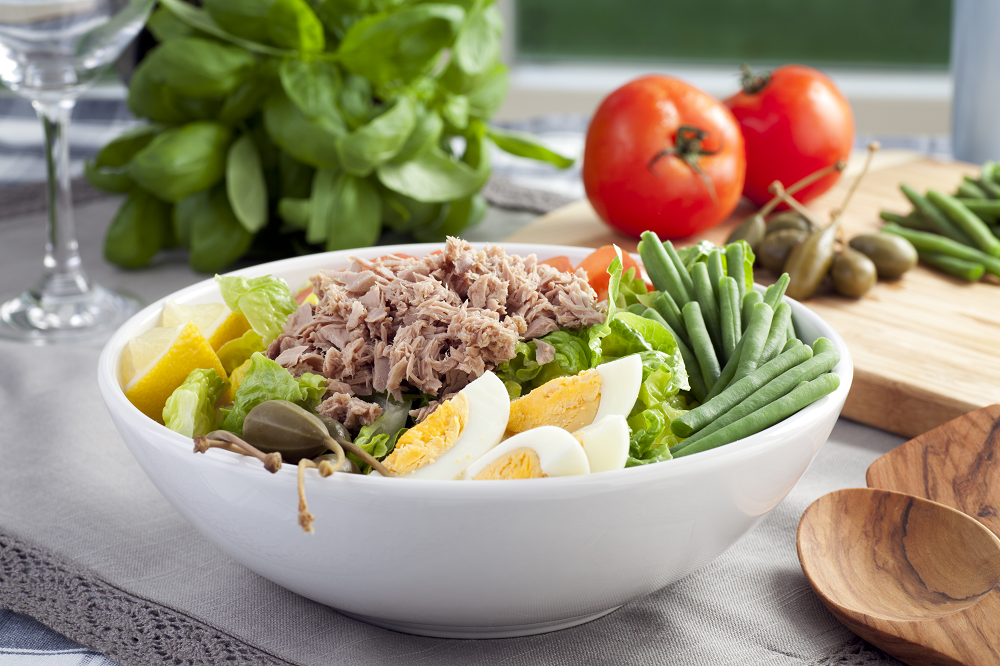 Meal Info
Serves: 4
Time: 20 mins
Vegetarian: Yes
Food Plan Info
Protein: 2 1/2
Free Veg: 2
Fat: 1
These tuna nicoise salad protein pots are a great on the go option and are handy if you want to prepare food for the next day. They would make a great picnic lunch and are packed with 30g of protein so super filling too.
The green beans are a good source of fiber, potassium, and folate, and are an excellent source of protein, iron, and zinc. They contain anti-oxidants similar to those found in green tea, also known as catechins, which have been found can help improve heart health and help manage diabetes.
Ingredients for Tuna Nicoise Salad Protein Pots
• 4 large eggs
• 320g green beans
• 4 tomatoes quartered
• 400g tuna in spring water
• 160 mls low-fat French dressing
Directions
1. Boil the eggs for 8-10 mins depending on if you want a soft or hard yolk, then at the same time steam the green beans for 8-10 mins above the pan until tender. Cool the eggs and beans under running water then carefully shell and quarter the eggs. Leave to cool.
2. Tip ¼ of the beans into a packed lunch pot. Top with 1 quartered tomato, 100g of tuna and 1 of the quartered eggs and spoon on 40mls of low-fat French dressing.
3. Repeat until you have 4 protein pots ready for use. Seal until ready to eat.