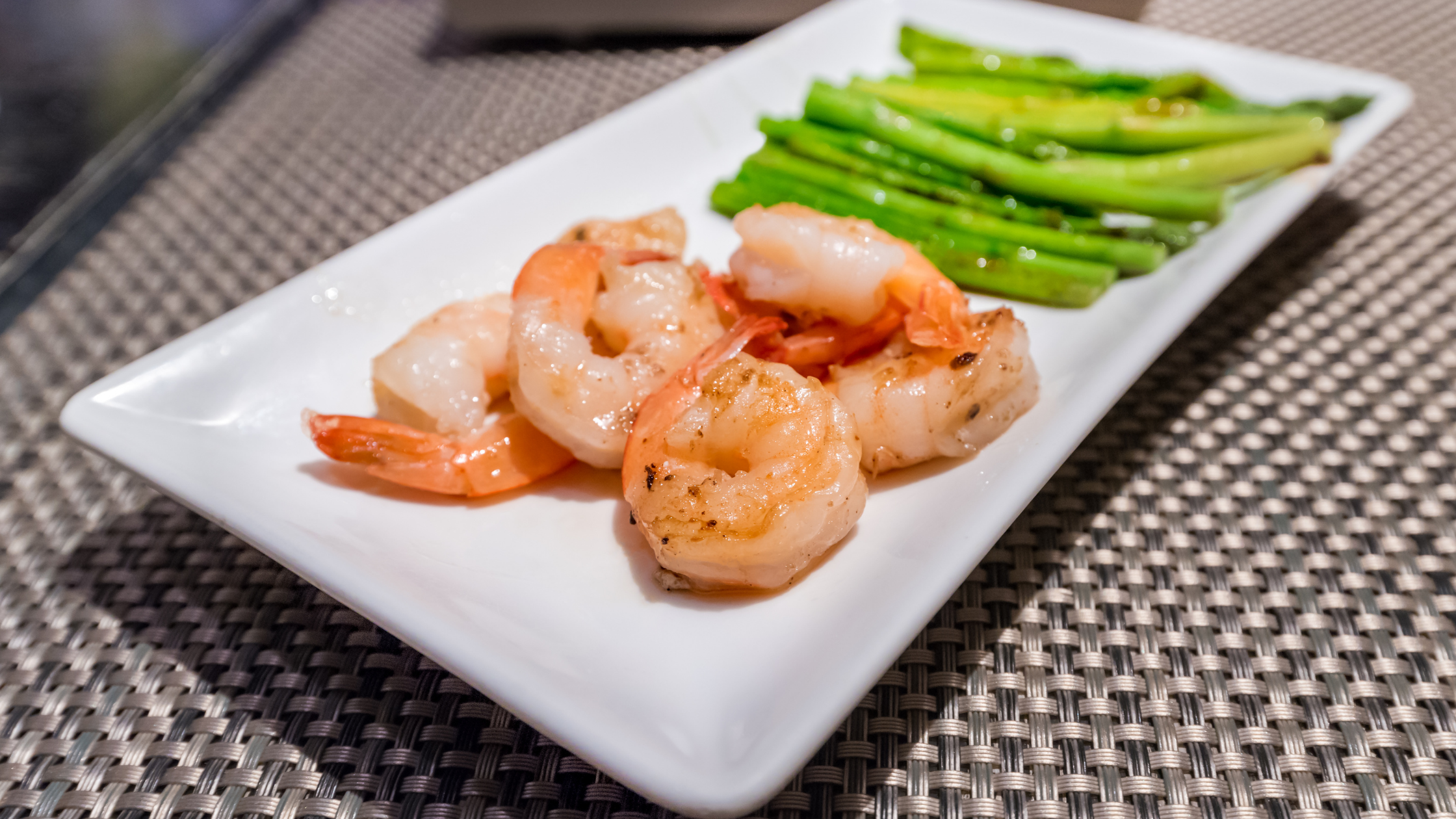 Meal Info
Serves: 4
Time: 15 mins
Food Plan Info
Protein: 2
Free Veg: 1
Prawns with Chickpeas and Seasoned Asparagus is a recipe that will really aid weight loss and weight management. We're using prawns because they are a rich source of protein containing 10 grams of protein per 2 ounce serving and this prawn recipe will leave you feeling fuller for longer. However, if prawns aren't your favourite source of protein you can substitute it with chicken or in the case of vegetarians, chickpeas are a great substitute.
Besides being high in unsaturated fats, prawns are an excellent source of omega-3 fatty acids which you can only get through your diet. Omega-3 fatty acids reduce inflammation and help reduce body fat if eaten regularly.
Before trying this prawn recipe be mindful of keeping the prawns healthy by choosing low fat cooking methods. The last thing you want to do to this great source of protein in your diet is make this naturally low fat food, higher in calories. Prawns cook quickly but can cope with high heat cooking methods, so we fry them today with Frylite 1 cal spray.
Sources of protein should be accompanied by healthy greens and for this recipe we've included one of the less common greens, asparagus. Loaded in nutrients, this spring vegetable is full of fibre, vitamins A, C, D and K as well as antioxidants and high levels of asparagine which is a natural diuretic.
Prawns with Chickpeas and Seasoned Asparagus Ingredients:
200g asparagus tips
1 tsp chilli flakes
1 tbsp light soya sauce
1/2 tsp chinese five spice
360g Prawns
2 red peppers
2 cloves garlic
Directions:
1. Place the asparagus in a bowl and toss in the seasoning and soya sauce.
2. Fry in pan for about 5 minutes until tender.
3. Meanwhile, in another pan fry off the prawns, garlic and chopped peppers.
4. Cook for a couple of minutes until the prawns go pink, stirring constantly.
5. Serve over the asparagus with some brown rice or noodles.
Download a copy of the Prawns with Chickpeas and Seasoned Asparagus recipe here.