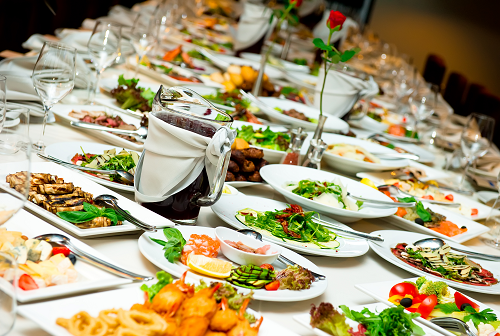 The summer is definitly the season for weekend activities that revolve around eating.
With proper planning, there is no need to worry about jeopardising all the good work you've done too date on your weight loss programme. This applies to everyone – those of you with Motivation or on your own weight loss programmes, or those of you on our maintenance plan. It doesn't matter.
As it stands, weight loss success and weight maintenance are both works in progress and you've every right to feel proud of your achievement.
More than likely you are worried you won't be able to manage the weekend without it affecting your weight as you'll be surrounded by temptation. Planning ahead to manage weight loss this summer is key to ensuring you stay on the straight and narrow but most importantly, you still enjoy the weekend as much as everyone else.
We've 8 handy tips for managing your weight at any event you attend this summer.
Top Tips To Manage Weight Loss This Summer
1) Plan Ahead
Before warned is before armed. Enquire what kind of food will be at the event. Then write down a list of those foods that fit within your food plan. Most venues will be only too happy to share the food menu with you and will often help with alternative requests. Also, make sure you write down the amount of alcohol you will consume.
Arriving at the event, you'll be fully in control of the food plan and what you intend to eat and drink.
2) Don't Arrive Hungry
A golden rule – never arrive hungry. How many weddings or christenings have you been at when you've finally arrived at the venue, famished. You rushed that morning and didn't have anything to eat mid-morning and by lunch time, real hunger has set in.
So, before you leave the house try to eat some protein and be ready to have a protein snack mid-morning, so that food isn't the first thing on your mind when you arrive.
3) Bring Your Own
If in doubt…..bring your own. If it's a formal event, then it's pretty difficult to arrive with you own food but if it's a family or friend, chances are that they'll really appreciate one of your tasty dishes.
Take something that is high in nutrition and low in calories such as vegetables and dip, or a tasty salad. Our recipe for omelette with ricotta is also perfect for a party. Actually, we've a ton of really nice recipes that you can use throughout the summer.
4) Watch The Carbs
Most events will lay on bread. It's a staple of most venues and that's not going to change. The only trick here is to ditch the burger bun in favour of more side salads. It's a hard habit to break but once you do, it's easy.
5) Be Treatwise
Allow yourself a treat but make sure it is absolutely worth it. Enjoy it but make sure it is part of your plan so you're less likely to lose control.
6) Limit Alcohol
Another golden rule – drink more water and let alcohol take the back seat. Drinking more water means you'll drink less alcohol. Sparkling water in a wine glass is simple but effective; it will make you feel like you are drinking wine but without the calories.
7) Don't Stand So Close To The Food
Sounds like obvious advice but remember, out of sight, out of mind. It is a good idea to fill up a small plate once and then mingle with people who are furthest from the spread of food. This will help reduce temptation and you'll be less likely to go for seconds.
8) Don't Focus On Food
Sound advice – don't focus on the food. You are attending a gathering, a catch-up with friends and family. By focusing on the social side of the event you're less likely to overeat and therefore more likely to manage weight loss this summer.
What if I eat more than I planned? Simply, maintain perspective. Take stock and learn from the experience. Then move forward armed with the experience, stronger, wiser and more determined.
One day slightly off your eating plan will not ruin your weight loss efforts. But it is vital that you regain control and get back on track immediately. So, take stock of our 8 top tips to manage weight loss this summer. You'll be glad you did.
To speak to a Motivation Weight Management Adviser or to book an assessment consultation, find your local clinic contact here.