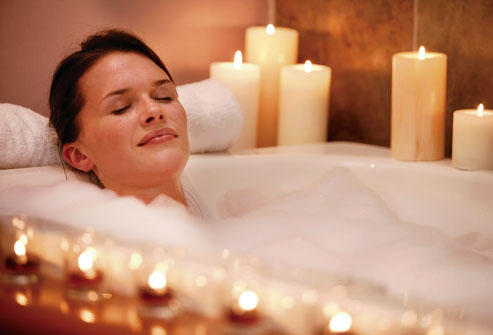 WEEK 4 – DAY 23 – 28. (Final 6 days of cycle)
WHAT HAPPENS

:

OESTROGEN AND PROGESTERONE PLUNGE. LOW TESTOSTERONE.
WHAT TO EXPECT:
This is known as the pre-menstrual week, and with that comes the mild to moderate depression, mood swings, sensitivity to full blown anger. These are the extremes, for some this week brings cramps, breast tenderness and feeling a bit zapped. Low oestrogen brings down serotonin levels, which can lower mood and positive outlook. Migraines and lack of deep, good quality sleep can be another effect. Libido for some may be low, for others a thicker uterine lining stimulates nerve endings causing libido to rise. This is when some may benefit from good quality supplements to alleviate severe symptoms, especially insomnia, backache, and lethargy. Skin may break out this week due to higher oil production and don't be surprised if you don't like how you look in the mirror as hormones affect how you see yourself.
WHAT TO DO: 
Be good to yourself, knowing that you'll soon feel a lot better. This is the week for a good book, hot baths, DVD's and early nights. PMT symptoms vary, lessen them by minimizing stress, having few plans or commitments, avoiding alcohol. You will be severely tempted to press self-destruct this week as you may feel a bit apathetic, but try to be strong. Remind yourself that hormones will change in only a couple of days and self-sabotage leads to guilt. Guilt is likely to manifest itself in anger which none of your loved ones deserve. Keep exercising even for 20 minutes a day. Don't worry about speed and intensity. Movement will boost serotonin which is in short supply this week. Avoid caffeine after 2pm. Drink camomile tea in the early evening and make sure your bedroom is quiet and a pleasant temperature. Drink lots of water, eat complex carbs and lean sources of protein. Eat out and enjoy a healthy meal if you're not in the mood to cook. Aim to exfoliate and take good care of your skin. Ignore negative self-perception, especially if you feel fatter.
WHAT TO WATCH:
Be careful not to take things up wrong, as comments might be perceived as negative, even if that's far from the intention. Watch self-loathing, as punishment in the form of excess food and drink might feel like a fitting punishment, leading to deeper self-loathing. You will be more tempted to drink alcohol, but hangovers will be more severe and may exacerbate depressive symptoms. This is the week you might feel down about losing weight or convince yourself it can't be done. This is not truth talking, this is hormones. Read, listen, immerse yourself in positive material and repeat affirmations, and don't go by how you feel as you're likely to have a lower opinion of yourself. Avoid the weighing scales, you're likely to be heavier this week. Remind yourself that next week any negative feelings about your body will have disappeared, so look forward to that. You need support so call on a good friend to remind you of your achievements and progress to date. Try to keep sugary snacks out of the house or at least out of sight. Grapes should help cravings, as does pineapple and mango. Write down how you feel, that way you can re-read and make sense of it when you're enjoying the new frame of mind next week.
FOR MORE ABOUT HOW MOTIVATION CAN HELP YOU REACH YOUR WEIGHT LOSS GOALS CONTACT YOUR LOCAL CLINIC.