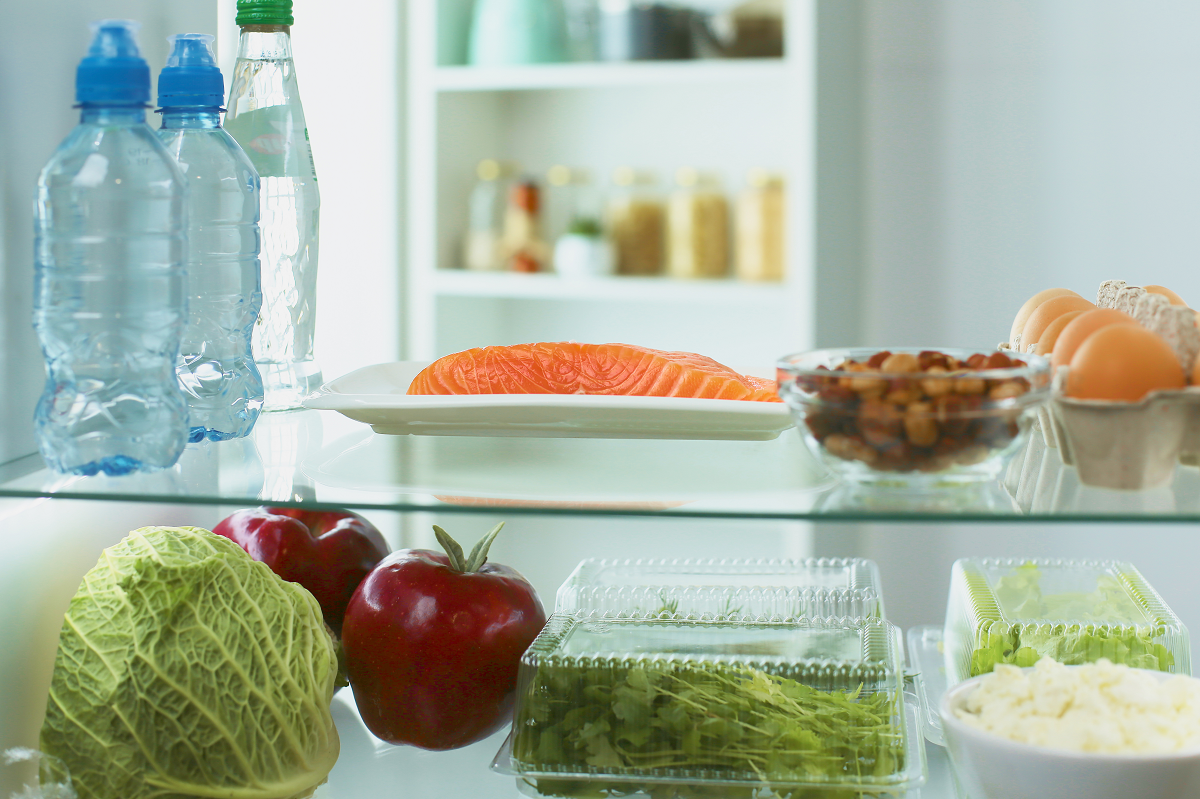 All too often people go to their fridge or cupboard and realise they have no healthy food to prepare. This leads to poor food choices. You need to have 'go-to' items in your fridge that you can use to quickly whip up a snack or main meal if you are too tired or short on time to cook.
I love to have a nice stash of my eight essential foods for my fridge to nourish the family during the week. Having these fridge essentials at hand means there's no excuse to go off track, even if the main shop hasn't been done. Eggs and/or smoothies for breakfast, salads and veggies for lunch and nourishing soups for dinner….it's a no fuss formula that creates quick, healthy meals that taste delicious.
Eight Essential Foods For Your Fridge
Raw veggies for snacking: buy celery, baby carrots and a variety of coloured peppers (those baby ones in Lidl are ideal). Wash thoroughly, then cut into sticks and store in your fridge in small containers with a lid. Always, try to keep onions, celery and carrots as a great base for a soup – add butternut squash or lentils to beef it up. Studies show that enjoying a diet that focuses on a daily intake of fresh vegetables have many health benefits, such as weight loss, diabetes control, lowered insulin secretion, improved sports performance and reduced risk for diabetes, cardiovascular disease and high blood pressure.
Greek yoghurt: I love this as an evening snack or for breakfast at times – sprinkled with chia or flaxseeds, blueberries and some oats and almonds for added crunch, it never fails to satisfy. But it doesn't just taste good – in a study at the University of Tennessee people who consumed just over 500g of the Greek yoghurt every day shed 22 per cent more weight and 81 pe rcent more belly fat than those who avoided the snack. Go Greek with all your yoghurt – did you know that a 170g serving contains almost as much protein as a chicken breast? It's also lower is sugar than other yoghurts.
Almonds: yes, believe it or not, you should store them in the fridge — they'll last longer there. I find a small handful of almonds is the perfect solution to the mid-morning or mid-afternoon munchies (plus they help keep my blood sugars stable for hours). They contain fat, protein, and fibre, which are three nutritional factors that enhance feelings of fullness. And check out this incredible fact: people who eat just one serving of tree nuts, such as almonds, per week are 46 per cent less likely to be obese than those who don't eat nuts, according to researchers at Loma Linda University. Almonds are anti-inflammatory for the body and are high in vitamin E, an antioxidant that can help fight off free radicals for a healthy immune system. They are also a great source of potassium – a mineral necessary for nerve transmission and the contraction of all muscles including the heart.
Salad ingredients: always have pre-washed salad greens, cucumbers and chopped onions on hand as a base for your lunch main salad or evening meal side salad. Research suggests that eating more is an effective strategy in the prevention and treatment of obesity and chronic disease. Make up a large leafy salad then pour over a little dressing. Use cold-pressed vegetable, nut or seed oils as they contain heart healthy fats that can promote good health, but do remember that one tablespoon is plenty, otherwise you're adding unnecessary calories. If you like lemon juice and/or balsamic vinegar, those are great calorie-free options.
Eggs: I adore eggs! They always satisfy my hunger. In fact, I'm often known to have a boiled egg in the afternoon to ward off cravings – and it works! Eggs are one of the most nutrient-dense foods available and make a perfect high protein meal any time of day. An egg provides 13 essential nutrients and is a great source of B-group vitamins, which are needed for vital functions in the body. One egg contains only about 85 calories, with protein, B vitamins, vitamins A and D, zinc and iron. Eggs are good sources of omega-3s and antioxidants, too. When it comes to sourcing your eggs, make sure to buy the best quality you can find. I always try to buy organic when I can. Try our baked eggs in portobello mushrooms recipe.
Salmon: Salmon is head-and-shoulders above any other fish when it comes to vitamin D and omega-3 fatty acids. I always try to have smoked salmon in the fridge which I can give my daughter, with cream cheese, on a wholemeal bagel for lunch, and which I often have in a wrap with a small amount of sweet chilli sauce and lots of greens. I buy fresh organic salmon fillets for family dinners and serve with pak choi, broccoli and brown rice with soya sauce. Check out our orange and ginger salmon recipe.
Cheese: eating cheese may help weight loss (due to high protein and chromium content, leading to more stable blood sugars) and could even help prevent heart disease and osteoporosis. That said, some cheeses are healthier than others. The top ones to aim for are: mozzarella, feta, cottage cheese, goat, parmesan, cheddar and swiss cheese. Cottage cheese is one of the best as it's particularly high in protein. I love having feta to hand in the fridge as it's such a handy one to make up a Greek salad, with lettuce, olives and tomatoes.
Hummus: a healthy, vegetarian-friendly, low-fat dip or spread made from chickpeas, this is the perfect lucnh or generous snack when serve with brown pitta 'triangle's or raw veggies. I can't tell you the amount of times I've nearly eaten my daughter's Doritas but then have been saved by a serving of hummus. Try it and see for yourself – it's a fantastic appetite suppressant due to the high protein content (in the chickpeas) and the fat from the oil. Watch our for garlic breath though!
Don't forget Water! Always keep a nice, cold pitcher of fresh water in the fridge to stay hydrated. Try flavouring it with a slice of lemon or cucumber. You may laready have some of the above list of eight essential foods for your fridge but how about adding to that list, one per week and watch it build to a very healthy offering for you and your family.