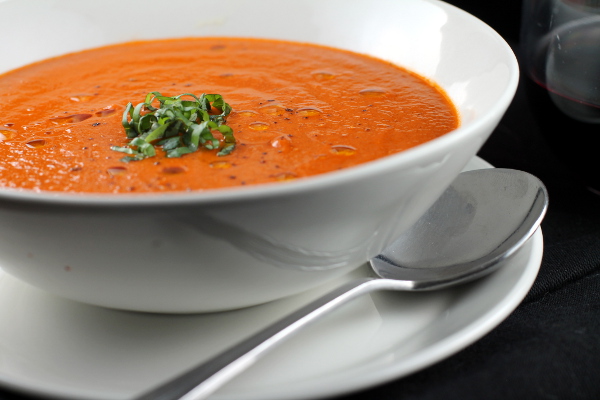 The weather is getting mighty chilly so we figured you'd be looking for some healthy soup recipes while you keep on track with your weight loss before Christmas. I recommend you make these soups as they are simple, tasty and filling as well as conducive to making you feel ab fab on your special night out.
Following on from my blog about getting into your gorgeous Christmas dresses I do hope you're drinking plenty of water and walking a few times a week and that you're starting to feel more energised and in control. Christmas is to be enjoyed, and for that to happen you need to be in tiptop mental and physical shape. So while weight loss for Christmas is the title, my aim for you is to start a set of processes to carry you through into the New Year and beyond. Don't go back to feeling lumpy and lethargic, you owe it to yourself to look after number one so that you remain positive, resilient and motivated for the year ahead.
I recommend you make large quantities of these healthy soups and use visualisation to get you closer to the reality of Christmas weight Loss.
1. RED PEPPER AND TOMATO: MAKES APPROX 8 BOWLS
Ingredients:
3-4 red peppers (Stemmed, deseeded and chopped into large pieces)
12-15 ripe tomatoes (cut in halves)
3 cloves of garlic in the peel
2 sprigs of fresh Rosemary
¼ teaspoon of salt
¼ teaspoon of paprika
1 cup of low fat milk (or unsweetened soy milk)
2 vegetable stock cubes dissolved in boiling water
½ cup of crumbled feta cheese (optional for topping)
Method:
Preheat oven to 425 degrees Fahrenheit (375 in fan oven)
Mix peppers, tomatoes, garlic, rosemary with oil, salt and paprika in a bowl. Then spread evenly on 2 non-stick baking trays.
Place in oven for approx. 40-50 mins.
Remove Rosemary and garlic
Place ingredients in a large saucepan over a low heat.
Gradually add milk and stock (Alter according to thickness and taste)
Leave to simmer for approx. 40 minutes. Then turn off heat and leave to cool.
Blend in batches
Serve topped with cheese.
2. CAULIFLOWER SOUP: MAKES APPROX 8 BOWLS
Ingredients:
2 garlic cloves (crushed)
1 onion (chopped)
1 tablespoon olive oil
1 head cauliflower (diced)
2 vegetable stock cubes in boiling water (1-1.5litres)
1 teaspoon sea salt
Method:
In a large saucepan heat oil. Add onion and garlic.
Cook for about 5 minutes, until softened
Add cauliflower and broth and sea salt
Bring to the boil and simmer for approx. 30 minutes
Add to blender and blend until smooth
3. LEEK AND BROCCOLI SOUP: MAKES APPROX 5-6 BOWLS
Ingredients:
1 dessertspoon olive oil
1 head broccoli (Approx. 400gms)
1 large leek
1 onion
2 cloves of garlic
Salt and pepper
1 tablespoon thyme (dried or fresh)
1 chicken stock cube (KALO) in 1 litre boiling water
Sprinkle of parsley
Method:
Heat oil in large saucepan over medium heat.
Add chopped onion and garlic
Chop both ends off leek and slice remainder. Add to pot
Separate broccoli into florets and add to saucepan
Pour in stock and bring to the boil stirring regularly
Turn heat down and simmer for 30-40 mins
Add thyme, salt, pepper and parsley
Leave to cool and blend
4. CHICKEN AND CABBAGE SOUP – MAKES APPROX 6-8 BOWLS
Ingredients:
3-4 small chicken breasts
2 chicken stock cubes (in approx. 1.5-2 litres water)
2 leeks (chopped)
6 carrots (chopped up)
1 medium head cabbage (shredded)
1-2 teaspoons Thai chili sauce (adjust to taste)
Method:
Cut chicken breasts in half and place in a large pot with stock
Bring to the boil and leave to simmer for approx. 30 minutes
Remove chicken from stock and set aside
Add leek and carrot to pot and cook until soft (10-15 mins)
Shred chicken into bite size pieces and return to pot with other ingredients
Add the shredded cabbage and cook for a further 10 minutes. Leave to cool down.
The soup should be served like a stew and flavoured with Thai chili sauce
So there you have it. Four easy soup recipes which can be enjoyed as part of your Christmas weight loss plan. Each recipe should make enough for you to portion into containers and freeze for future use. The idea is to minimise stress, optimise nutrition and give you a few simple ideas which take a very short time to prepare with readily available ingredients. Aim to have a bowl of soup at least 4 to 5 days per week, the liquid makes you feel much fuller than dry food so no hunger or feelings of deprivation, and the low fat and carbohydrate level will accelerate your weight loss for Christmas.