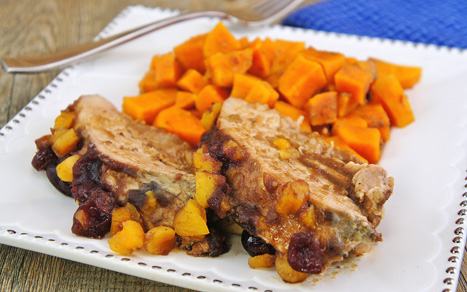 Meal Info
Serves: 6 - 8
Time: 10 mins prep
Fruity, meaty and super tasty, this recipe for Apricot and Cranberry pork roast is perfect to leave cooking away while you're out at work during the day. Preparation time is minimal taking only 10 minutes and the ingredients below will serve 6 to 8 people depending on portion size and depending on the size of your slow cooker.
Leave to cook on a low heat for 7 hours.
Ingredients:
1.5 lbs boneless pork loin roast
1 cup chopped cranberries
¼ cup dried apricots
½ teaspoon grated orange peel
¼ cup pure orange juice
1/3 cup chopped onion
2 teaspoons cider vinegar
1 teaspoon dry mustard
1 teaspoon salt
1 teaspoon fresh grated ginger
A few scallions
Method:
Combine the cranberries, apricots, orange peel and juice, onion, vinegar, mustard, salt and ginger in the slow cooker bowl.
Add the meat and spoon some of the cranberry mixture on top.
Cover and cook on low setting for 7-9 hours (check that pork is fork tender)
Remove pork to a chopping board. Cut into slices.
Spoon off any fat from top of mixture in slow cooker.
Serve pork topped with sauce and scallion greens if desired.