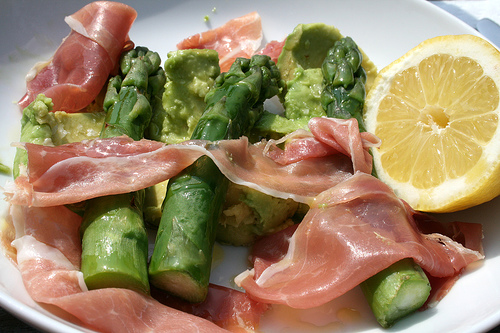 With summer just around the corner, we are all starting to think about eating lighter at lunch time and with that we have the perfect summer salad for you.
Salads don't always have to be boring either and as they are such a great option for a quick bite throughout the day, we wanted to share this asparagus and parma ham salad which we are just loving at the moment. Feel free to add extra toppings such as onions, peppers or cherry tomatoes should you desire.
This summer salad is packed with goodnes. Asparagus has many health benefits and loaded with nutrients A, B, C and K while also being a great source of fibre and parma ham is a great, tasty source of protein, combined these two ingredients make a salad your taste buds will thank you for!
Summer Salad – Asparagus and Parma ham
Serves 2
500g asparagus
60g parma ham
1 calorie spray
Pinch of salt
1 tbsp of apple cider vinegar
2 tbsp of French mustard
Light fry the parma ham using the 1 calorie spray on a medium heat. Steam or grill the asparagus for 5 minutes.
Meanwhile for the dressing, combine the apple cider vinegar with the mustard.
Drizzle over the asparagus and parma ham and enjoy!