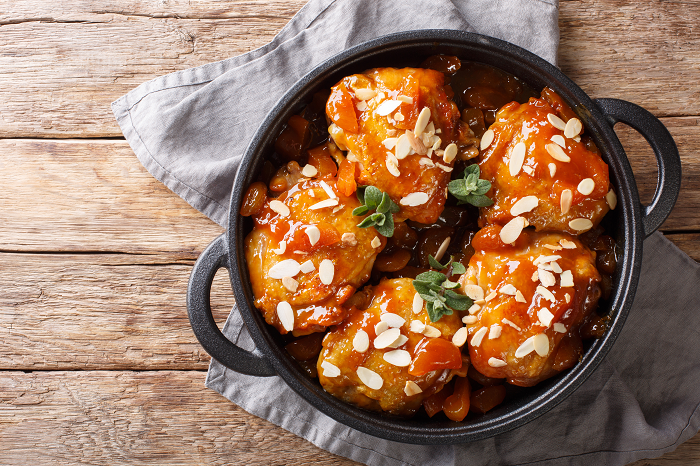 Meal Info
Serves: 4
Time: 10 – 15 mins
Food Plan Info
Protein: 3
Restricted Veg: 1
Fat: 1
Dairy: 1/4
Carbohydrate: 1/2
This baked chicken and almond pepper recipe combines super nutrition with easy preparation of only 10 – 15 minutes.
With low saturated fat of only 3 grams and almost 30 grams of protein per serving this is a delightful mix of textures and flavours that can be added to your repertoire of quick and easy lunch or dinner recipes.
Ingredients
600 grams chicken breasts
400g of red onions, cut into wedges
3 red peppers(450g), deseeded and cut into slices
240g baby potatoes chopped up
1-2 garlic cloves finely chopped
1 teaspoon each ground cumin, smoked paprika and fennel seeds, slightly crushed
3 tablespoons olive oil
Juice and zest of one lemon
32 grams whole blanched almonds, roughly chopped
250 grams 0% fat FAGE Greek yoghurt
Small handful parsley or coriander to serve
Directions:
Heat oven to 200 degrees/180 degrees fan/gas mark 6.
Place chicken or turkey, onions, potatoes if using and peppers in a large bowl and season.
In another bowl mix together garlic, spices, oil, lemon zest and juice.
Pour this over everything and spread the mixture on a large baking tray or 2 smaller trays.
Roast for 40 minutes, turning chicken over after 20 minutes making sure it is cooked through.
Add almonds for the last 10 minutes of cooking.
Serve in bowls with a big dollop of Greek yoghurt and some chopped parsley or coriander.
To download a copy of the baked chicken and almond recipe, click here.