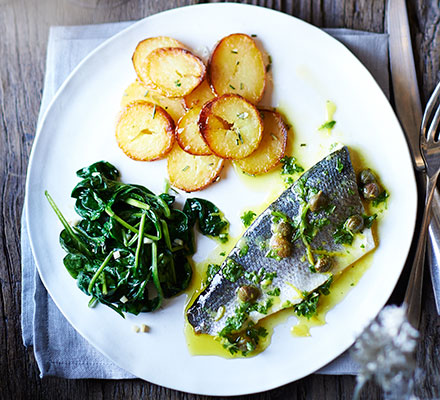 Meal Info
Serves: 4
Time: 15
Food Plan Info
Protein: 2
Fat: 1
This baked sea bass with lemon and caper dressing recipe has a delicious dressing and is not only great for a midweek meal but I think it's also good enough to entertain with at the weekend.
Fish is perfect for breaking up the week when you are looking to add some healthy variety to your weekly meal plan. You can't go wrong if you choose sea bass for your source of protein at dinner time. It is a high source of protein, with 20 grams of protein in a 3-ounce serving and is low in calories with only 105 calories in a 3-ounce serving.
Even though sea bass is low in total fat, it is an excellent source of two omega-3 fatty acids: Eicosatetraenoic acid (EPA) and docosahexaenoic acid (DHA). These fatty acids help to reduce risk of cardiovascular disease by helping to lower blood pressure and reducing levels of cholesterol. This white fish is also a good source of vitamin B-6, containing almost 20 percent of your daily value.
This meal only uses 2 protein servings & 1 fat serving and we recommend to serve the fish recipe with 120g of potatoes and seasonal free vegetables.
Ingredients
4 x 140g sea bass fillets
Olive oil, for brushing
For the caper dressing
3 tbsp extra virgin olive oil
Grated zest 1 lemon, plus 2 tbsp juice
2 tbsp small capers
2 tsp gluten-free Dijon mustard
2 tbsp chopped flat-leaf parsley, plus a few extra leaves (optional)
Directions
To make the dressing, mix the oil with the lemon zest and juice, capers, mustard, some seasoning and 1 tbsp water. Don't add the parsley yet (unless serving straight away) as the acid in the lemon will fade the colour if they are left together for too long.
Heat the oven to 220C/200C fan/gas 7.
Line a baking tray with baking parchment and put the fish, skin-side up, on top.
Brush the skin with oil and sprinkle with some flaky salt.
Bake for 7 mins or until the flesh flakes when tested with a knife.
Arrange the fish on warm serving plates, spoon over the dressing and scatter with extra parsley leaves, if you like.
To download a copy of the baked sea bass with lemon and caper dressing recipe, click here.