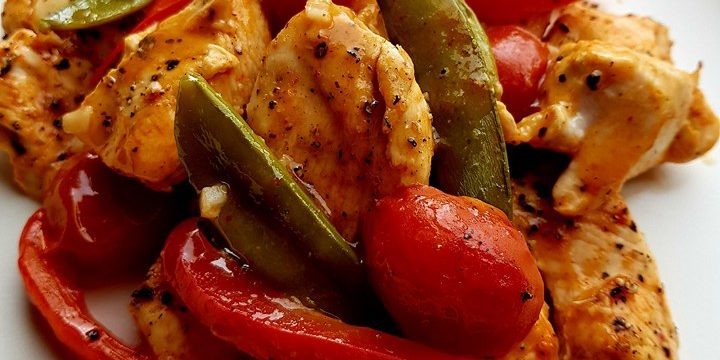 Meal Info
Serves: 4
Time: 50 mins
Food Plan Info
Protein: 2
Free Veg: 1
Restricted Veg: 1
Cajun Chicken Vegetable Tray Bake
A delicious, yet simple dish, that packs a bit of a kick. It is packed with protein and plenty of vitamin C from the red peppers.
Use it with your serving of rice, if you have a carbohydrate left. If not pair this dish, with broccoli rice a great alternative to rice. It is considered a free food but will help bulk up any dish.
For example, Green Isle Broccoli Rice is made from 100% broccoli and a 160g portion contains only 2g of carbs, 83% fewer calories than boiled rice and is a source of Vitamin C. It has only 21 Kcal per & 1.2g of carb per 100g.
Cajun Chicken Vegetable Tray Bake Ingredients:
400g of chicken mini fillets
1 medium onion
1 red/green pepper
1 large carrot
Cajun seasoning
Chicken stock cube, crumbled
Salt & pepper to taste
Directions
Place chicken fillets in a lined baking tray.
Chop onion, pepper and carrots into pieces & place in lined baking tray.
Sprinkle with Cajun seasoning, chicken stock cube & add a dash of water.
Bake for 40 minutes.
Download your own copy of the Cajun Chicken Vegetable Tray Bake recipe here.