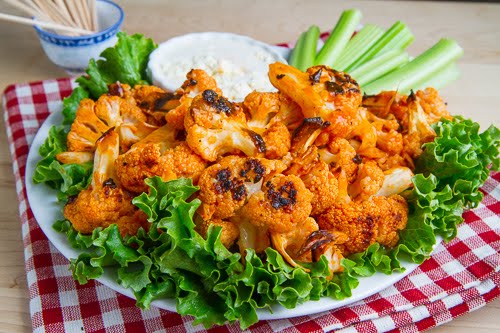 This  cauliflower buffalo bites is a quick and easy healthy recipe which has a little kick to it too and it's a great way to get those extra veggies into your food plan.
With anti-inflammatory and heart healthy properties in this healthy recipe, cauliflower is one of the cruciferous vegetables you should try and eat on a regular basis.
Packed with nutritional goodness we're going to share a few of the many health benefits this healthy recipe contains:
Firstly it's a superb source of your B vitamins including B1 (thiamine), B2 (riboflavin), B3 (niacin), B5 (pantothenic acid), B6 (pyridoxine) and B9 (folic acid).
It contains omega-3 fatty acids and vitamin K.
It is also as a good source of the minerals – phosphorus and potassium.
The powerful antioxidants (Vit C and manganese) in cauliflower truly make this one vegetable you should not be over looking in the super market this week!
So, set aside half an hour and give this delicious healthy recipe a try, it would go down a treat as a mid week snack or paired on the side with some lean protein for dinner.
Cauliflower Buffalo Bites Ingredients
1 head of cauliflower
¼ cup of Franks hot sauce
1 Low cal spray
1 tbsp 0% fat sugar free, natural yogurt (optional to serve)
Salt and pepper
Directions
Preheat your oven to 180 degrees
Cut your cauliflower into florets, spread out on a baking tray and spritz with low cal spray
Cook in oven for 20 – 25 mins
Remove from the oven, place cooked cauliflower into a bowl and mix in you your hot sauce.
Pop back into the oven for another 5 mins
Serve hot on a bed of leaves with your yogurt, season with salt and pepper and enjoy.