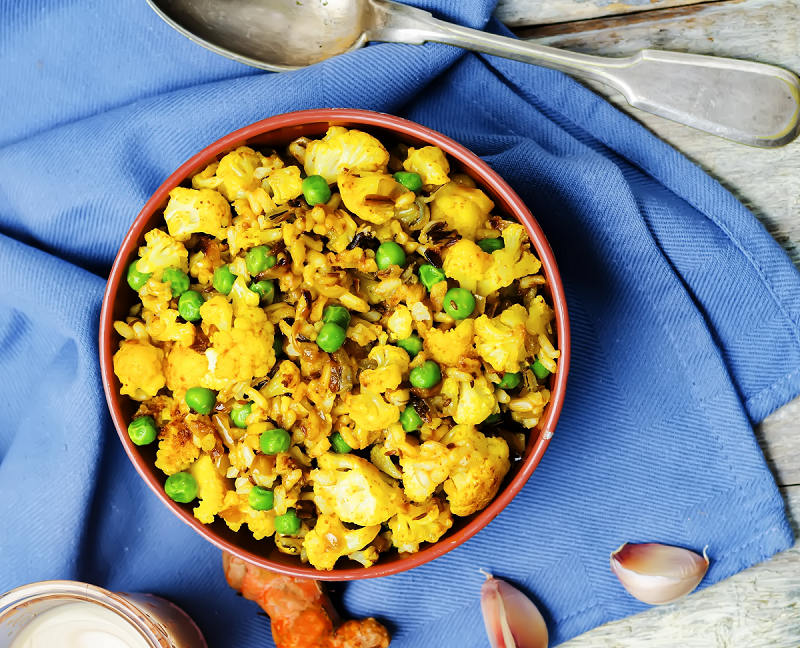 Meal Info
Serves: 4
Time: 20 mins
Vegetarian: Yes
Vegan: Yes
Food Plan Info
Free Veg: 2 1/2
Restricted Veg: 1
Weight Loss Recipe You Can Enjoy Tonight – Cauliflower Masala
Weight Loss Recipe You Can Enjoy Tonight – Cauliflower Masala: If you're looking to spice up your veggies, give this recipe a go. Indian spices are a firm favourite for many but unfortunately dining out at an Indian restaurant can cause a diet disaster. Try this healthy twist on a popular Indian dish that won't cause damage to your weight loss efforts and will allow you to curb the crave and enjoy a healthy fulfilling dinner recipe.
With anti-inflammatory and heart healthy properties in this healthy recipe, cauliflower is one of the cruciferous vegetables you should try and eat on a regular basis. Packed with nutritional goodness we're going to share a few of the many health benefits this healthy recipe contains.
Firstly it's a superb source of your B vitamins including B1 (thiamine), B2 (riboflavin), B3 (niacin), B5 (pantothenic acid), B6 (pyridoxine) and B9 (folic acid). It contains omega-3 fatty acids and vitamin K. It is also as a good source of the minerals – phosphorus and potassium. The powerful antioxidants (Vit C and manganese) in cauliflower truly make this one vegetable you should not be over looking in the super market this week!
You can add some grilled chicken or tofu on the side of this dish to make sure you get your protein in too!
Ingredients
1 cauliflower, leaves cut into florets
Low calorie cooking spray
1 tbsp black mustard seeds
1 tsp ground cumin
1 tsp fennel seeds
10-12 fresh or dried curry leaves
2 red chilies, de-seeded and sliced, reserving some slices to garnish
½ tsp turmeric
2 tsp chopped coriander
Salt
2 tomatoes, chopped
1 cup frozen peas
Directions
Boil the cauliflower for 4-5 minutes, drain and leave to steam dry.
Meanwhile spray a pan with low calorie cooking spray and place over a medium heat. Add the mustard seeds, then when they begin to pop, stir in the cumin, fennel seeds, curry leaves, chilies and turmeric. Stir fry for a few seconds until fragrant.
Add the cauliflower, season with a little salt, then add the tomatoes and 200ml water. Cover, turn down the heat to medium- low and cook gently for 10 minutes.
Add the peas and cook for a further few minutes, until the veg are tender and liquid has reduced a little.
Garnish with chilli slices and coriander.
Serve onto four separate dishes with your protein of choice and enjoy!