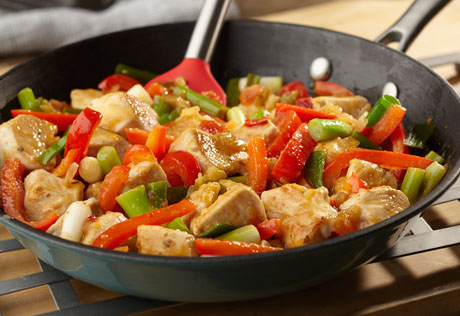 Meal Info
Serves: 4
Time: 10 mins
You've been asking for a quick and easy healthy recipe and our chicken and mixed pepper stir fry is just that. This recipe uses a delightful combination of vegetables and seasonings which are all packed with goodness. The ginger in this recipe can be used fresh, dried or powdered. We prefer to use fresh ginger as it adds the most flavour. Ginger has been used in weight loss recipes for years as it's a quick and delicious way to add a special flavour to what can sometimes be quite bland food. Fresh ginger has many benefits, most of which are associated with having healing and wellbeing properties and can be quite effective in relieving nausea and inflammation. Combined into this recipe, this stir fry is a perfect midweek meal when you get home late but still want to stick to your weight loss plan, as both preparation and cooking take very little time.
Try it out and we'll eat our hats if this is does not soon become your favourite quick and easy healthy recipe.
Serves 4.
Ingredients 
1 cal spray or tablespoon olive oil
1 clove of garlic, crushed
2.5cm piece of root ginger, peeled and finely chopped
350grams/ 12 oz chicken OR turkey breasts cut into strips
1 small red, yellow and green pepper, deseeded and sliced
1 courgette, thinly sliced diagonally
1 leek, washed and thinly sliced
115g/4oz mangetout or sliced mushroom
2-3 tsps Cajun seasoning or Chinese 5 spice powder
2 tbsps unsweetened apple juice
1 tbsp light soya sauce
Salt and freshly ground pepper
Directions
Heat oil in a wok or large frying pan. Add garlic and ginger and stir fry over a high heat for 30 seconds
Add chicken or turkey for 1-2 minutes until coloured all over. Add peppers, courgettes, leeks and mangetout and stir fry for a further 2-3 minutes.
Add the Cajun seasoning or 5 spice powder, apple juice, soy sauce, salt and pepper and stir fry for another 3-4 minutes until chicken and veg are cooked and tender
Serve with salad or brown rice.