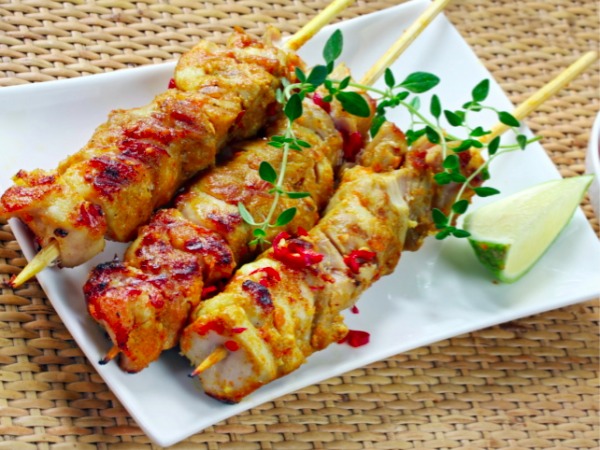 Chicken Skewers
Chicken Skewers: This recipe is perfect as a snack or as part of a meal that can serve the whole family.
Serves 4
Fat 2
Protein 2
Restricted Veg ¼
Free Veg 1/2
Ingredients:
– 2 tablespoons chopped parsley
–  2 tablespoons chopped mint
– 2 tablespoons chopped chives
– 2 tablespoons olive oil
– Juice of one lemon
– 400g skinless chicken breasts, cut into small chunks
– 1 red onion
– 1 red pepper, seeded and cut into 3cm chunks
– 1 lemon, cut into 8 wedges
– Salt and pepper
Relish Ingredients:
– 8 ripe cherry tomatoes on the vine
– 2 green chillies
– 2 small garlic cloves, finely chopped
– 2 tablespoons olive oil
– 2 tablespoons white wine vinegar
Directions
1. Mix the herbs, oil, lemon juice, salt and pepper in a large bowl and add chicken pieces.
2. Cut red onion into six wedges, then separate the layers on each wedge.
3. Add onion and pepper to the marinade and mix thoroughly.
4. For the relish, quarter and seed the cherry tomatoes.
5. Mix the tomatoes, chillies, garlic, oil, vinegar, salt and pepper and pour into a small dish.
6. Thread the chicken, peppers and onion onto skewers, finishing each with a lemon wedge.
7. Grill under a medium high heat for 5-6 minutes on each side or cook on a BBQ, making sure chicken is cooked thoroughly.
Serve on a platter with tomato relish.