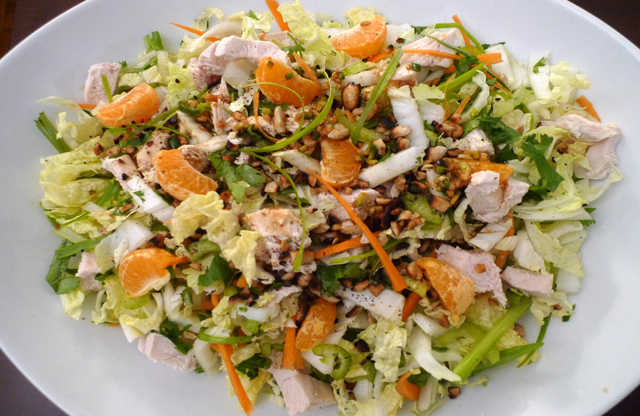 Meal Info
Serves: 4
Time: 20 mins
Food Plan Info
Protein: 2
Free Veg: 1
Restricted Veg: ¼
Fat: 1
Fruit: ¼
Some people think salads are boring but this Chinese chicken salad proves otherwise. Eating a salad every day is a really healthy habit that you should try to develop. The only time salads are boring is when you eat the same one over and over.
At this time of year, we always dig out our healthy salad recipe book. The one we want to share with you today is for a Chinese Chicken salad and is quite delicious.
Chinese chicken salad, as its name suggests, is a healthy salad recipe with chicken flavoured by Chinese seasonings which are already popular among Irish people. The Chinese part of the dish comes from the Chinese-type ingredients used such as ginger and sesame oil.
The surprising thing is that it tastes so good you wouldn't even feel you're eating a salad!
Chinese Chicken Salad Ingredients
4 tablespoons low salt soy sauce
2 teaspoons olive/sesame oil
400g chicken breasts
½ head white cabbage, thinly shredded
¼ head red cabbage, thinly shredded
1 large carrot shredded
3 scallions, trimmed and thinly sliced, greens included
1 can mandarin oranges in water, drained
60 ml rice wine vinegar
1 teaspoon minced garlic
1 finely sliced green or red chili
1 teaspoon minced ginger
1 tsp of stevia
Directions
Preheat oven to 350 degrees F/180F
Combine 1 tablespoon soy sauce and ½ teaspoon sesame oil and brush onto chicken breasts
Arrange in a baking dish and bake until juices run clear, about 13-15 minutes
Remove from oven, cool completely and cut into ¼ inch slices.
In a large bowl, combine white cabbage, red cabbage, carrots, scallions, mandarin oranges and sliced chicken.
In a separate bowl, whisk together 3 tablespoons soy sauce, vinegar, garlic, ginger, oil, canderel and chilli sauce. Pour dressing over salad and toss to continue.
Divide among bowls and top with teaspoon toasted almonds.