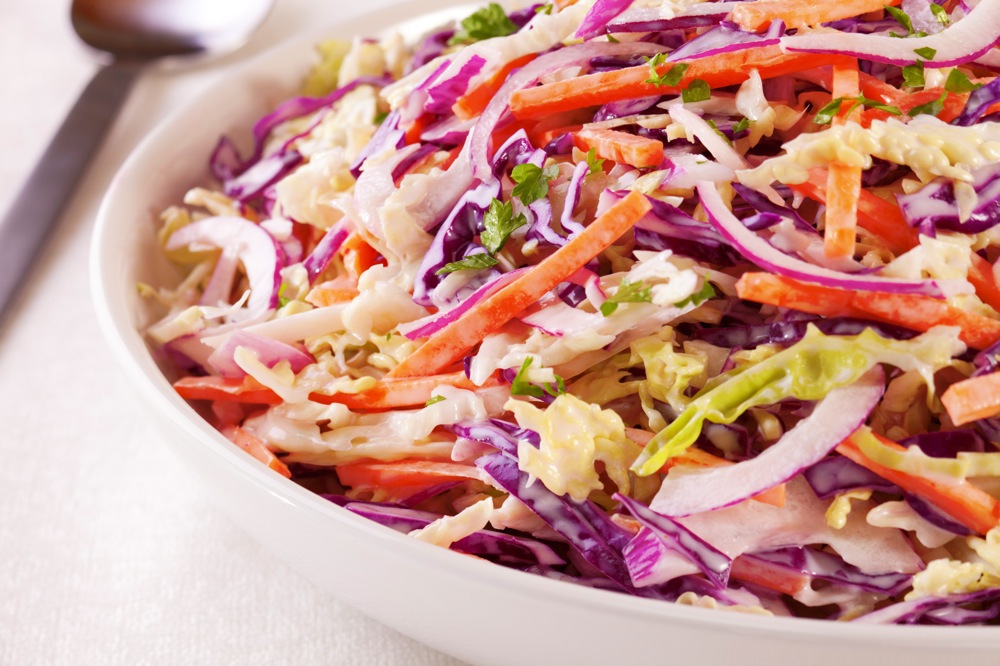 Clients have been asking about what to make when preparing food for picnics this summer. So today we are sharing this delicious healthy coleslaw recipe which is picnic-perfect! This healthier version which can be paired with a salad and some lunch meat is sure to be a hit at any get-together this summer. Our fat free healthy coleslaw combines natural yogurt and mayonnaise with spicy dijon mustard for a tangy addition to the power food we are using in this recipe which is cabbage. 
If you want beautiful glowing skin, and an immune system powerful enough to fight off just about anything, don't forget this highly nutritious but common vegetable. It was thought to be so powerful that ancient healers declared it contained moon power because it grew in the moonlight. Modern nutritional science understands its power comes from its high sulfur and vitamin C content. Either way – its definitely worth adding this power food to your weekly diet.
Ingredients
4 tbsp plain fat free yogurt
½ tsp Dijon mustard
2 tbsp low fat mayonnaise
¼ white cabbage
¼ red cabbage
1 ½ carrots
1⁄2 onion
Directions
Mix the yogurt, mustard and mayonnaise together in a bowl.
Using a grater, shred the cabbage and carrots.
Either grate the onion or chop as finely as you can
Tip all of the vegetables into the bowl and stir through the dressing.
Serves 4 and keeps in the fridge for up to 3 days.