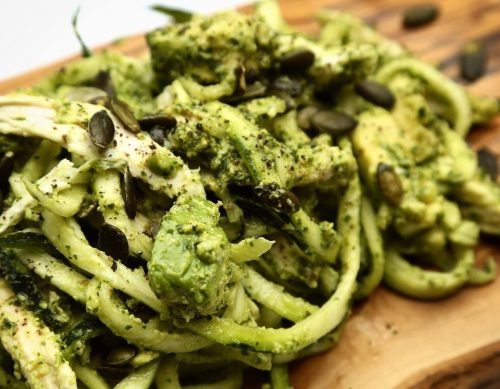 This courgetti recipe combines convenience with great taste and lots of healthy nutrients to make you look and feel great. Courgetti with chicken and pesto is a great alternative to using spaghetti, or you can mix half courgette and half spaghetti for other members of the family. Courgettes are one of the healthiest foods you can eat. They are very low in calories and contain virtually no fat or cholesterol so are a great choice for weight loss. Courgettes are also rich in magnesium, vitamin C and heart healthy potassium. They are one of the best sources of dietary fibre (in the skin) which helps reduce constipation, keeps you full for longer, and offers some protection against colon cancers.
This recipe for courgetti with chicken and pesto serves 2 people.
Ingredients:
1 Cal spray
2 chicken fillets chopped
1-2 cloves garlic chopped finely
1 small red onion chopped up
Salt and black pepper
½ yellow pepper cut up
10-12 mushrooms, sliced
12 cherry tomatoes, halved
250 grams spirallized courgette or ribboned courgette (available in supermarkets)
1 heaped dessertspoon pesto
Method:
Heat a large pan and add 1 Cal spray. Then add chicken pieces, garlic and red onion. Fry for 10 minutes.
Add in pepper and mushrooms, fry for a further 5 minutes until chicken turns slightly golden and onions and peppers start to soften.
Scatter in cherry tomatoes and fry for another 5 minutes, then add pesto and stir in.
Next add in the courgette and stir into the mix for 3 further minutes.
Our courgetti with chicken and pesto dish is best consumed immediately.