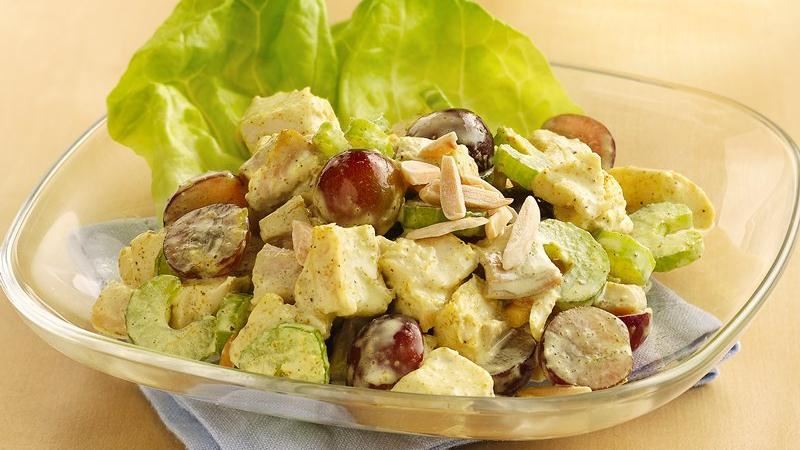 We are all about encouraging healthy salads this summer, as before you know the warm weather will be a distant memory and we will be downing the warm soup hoping to help us ward off the cold!!
This crisp and cool chicken salad has a refreshing combination of ingredients to satisfy your taste buds while giving you the great nutrition you need. So turn your leftover chicken into a tasty part of a simple salad. By combining curry powder and fat-free yogurt you can upgrade a boring salad to a spicy, zesty bowl of greens. Feel free to add red pepper, celery or scallions to bulk this recipe up.
Where possible we suggest that you use romaine lettuce if you can instead of iceberg as romaine has one of the highest nutritional values in the lettuce category. Lettuce is a brilliant base to any salad as it is so low in calories (only 12 for one shredded cup) and contains almost zero fat. You also might not be aware of this but lettuce contains fibre too. So besides filling you up, it also improves your digestion which is essential for long term weight control.
Try out this recipe which will take you less than 5 minutes to prepare and dig your fork into a tasty chicken salad tonight!
Ingredients
1 cup plain fat-free yogurt
1/2 cup grapes, halved, or 1/4 cup raisins
2 teaspoons curry powder
Dash of salt
1/4 cup walnuts (optional)
Romaine Lettuce
2 cups chopped cooked leftover chicken
Directions
Mix yogurt with grapes or raisins, curry powder, and a dash of salt.
Chop the lettuce, and place into each of 4 bowls.
Combine the chicken with the yogurt mixture, and spoon on top of the beds of lettuce.
Serve immediately, or chill until ready to serve.