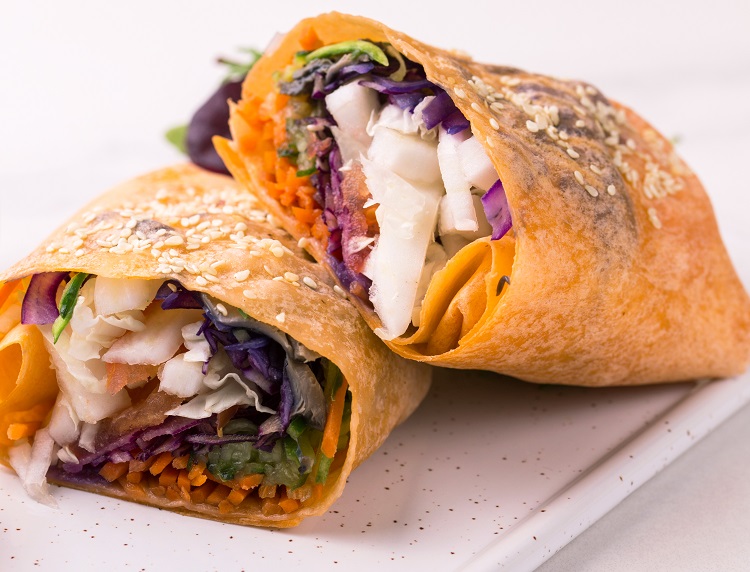 Meal Info
Serves: 4
Time: 40 minutes
Vegetarian: Yes
Vegan: Yes
Food Plan Info
Protein: 2
Free Veg: 1
Restricted Veg: 1
Fat: 1
Dairy: 1/4
Carbohydrate: 2
Delicious – curried tofu wraps. This spicy vegan dinner is big on taste. It is simple to make and packed with chunky tandoori-spiced tofu on a cool mint, yoghurt and red cabbage relish!
Sure to please everyone at the dinner table, non vegans included.
This recipe does use 2 carbs when used for dinner but everything could be halved to make 1 wrap for a tasty lunch option.
Curried Tofu Wraps Ingredients
400g of shredded red cabbage
4 heaped tablespoons of dairy free yoghurt (eg Alpro plain with coconut)
3 x 200g packs of tofu each cut into 15 cubes
3 tbsp of mint sauce
2 tbsp tandoori curry paste
1tbsp of olive oil
1 cal fry lite spray
2 onions(250g) sliced
2 large garlic cloves, sliced
8 small wholegrain wraps
2 limes cut into quarters
Curried Tofu Wraps Directions
Mix the cabbage, yoghurt and mint sauce, season and set aside.
Toss the tofu with the tandoori paste and 1tbsp of olive oil.
Heat a frying pan and cook the tofu (in batches), for a few minutes each side until golden.
Remove from the pan and set aside. Spray the pan with 1 cal spray and stir in onions and garlic and cook for 8-10 minutes until softened.
Return the tofu to the pan and season well.
Warm the wraps, then top each one with some cabbage followed by the curried tofu and a good squeeze of lime.
Serve with a side salad.