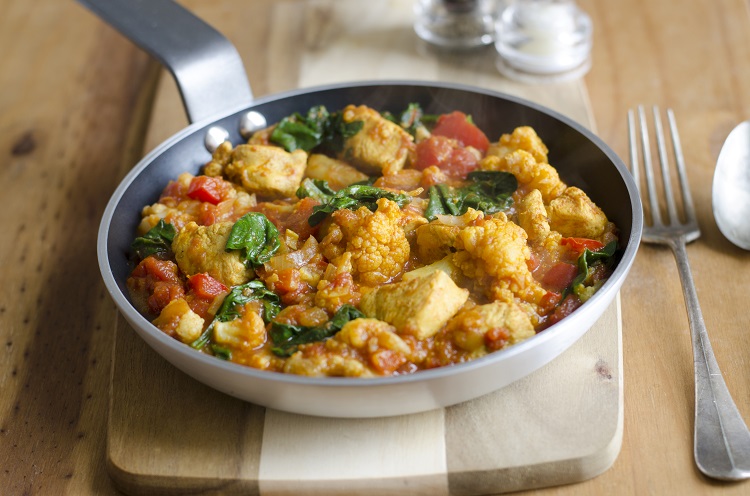 Meal Info
Serves: 4
Time: 1 hour 15 mins
Food Plan Info
Protein: 3
Free Veg: 2
This quick and tasty curried chicken and cauliflower bake recipe uses up 3 of your 7 protein servings for the day. It is a perfect dinner option accompanied with some basmati rice as one of your carbohydrate servings.
Ingredients for Curried Chicken And Cauliflower Bake
500g of cauliflower, broken into florets
2 tbsp tikka curry powder
600g of skinless and boneless chicken thighs
400g red and yellow cherry tomatoes, halved
200g baby leaf spinach
Instructions for Curried Chicken And Cauliflower Bake
Preheat your oven to 200°C/fan 180°C/gas 6.
Cook the cauliflower florets in a saucepan of boiling water over a high heat for 5 minutes, or until just tender. Drain well.
Meanwhile, mix the curry powder and 3 tbsp water in a shallow dish to make a smooth paste. Make a few slashes in each chicken thigh, add to the paste and toss to coat evenly. Spray a large non-stick roasting tin with low-calorie cooking spray and arrange the chicken thighs in a single layer.
Toss the cauliflower with any remaining curry paste to coat the florets lightly and add to the tin around the chicken thighs. Season lightly, spray with low-calorie cooking spray and roast for 10 minutes. Scatter over the tomatoes and cook for a further 20 minutes, or until the chicken is cooked through and the veg is tender.
Just before the end of the cooking time, place the spinach in a large colander over the sink and pour over a kettle of boiling water to wilt it. Drain well, add to the chicken and cauliflower and serve hot.
Download your copy of Curried Chicken And Cauliflower Bake here.