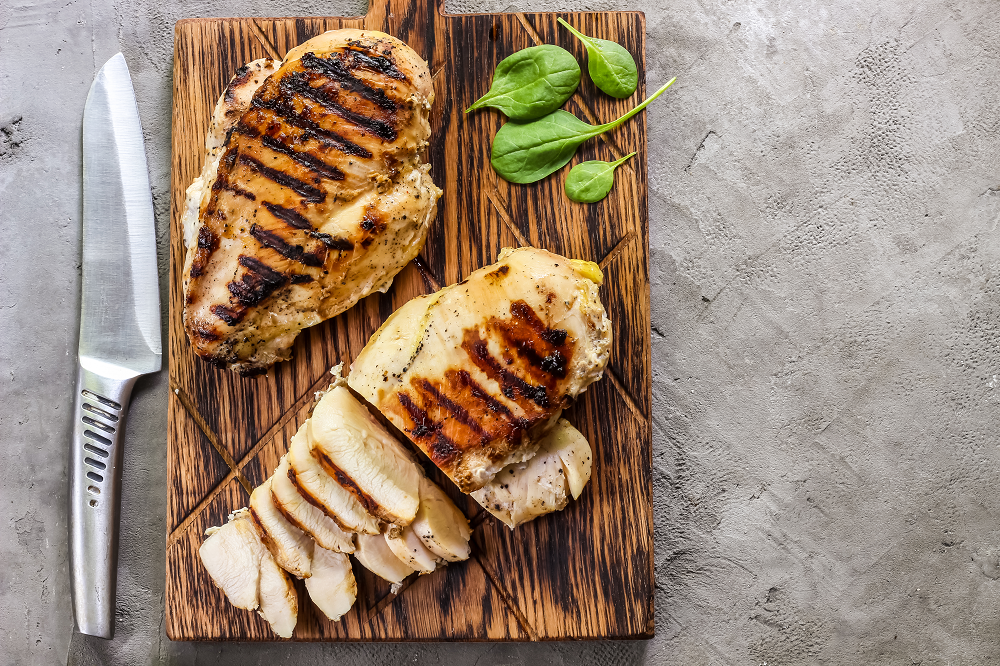 Meal Info
Serves: 4
Time: 45 mins
Food Plan Info
Protein: 2
Free Veg: 1
Fat: 1
Carbohydrate: 1
This grilled chicken with potato wedges and stir-fry vegetables recipe is as easy as it gets and is one that you should master and always have ready to go – it's filling, it's tasty and it's healthy.
Ticks all the boxes!
This recipe uses 2 protein, 1 carbohydrate & 1 fat serving. It leaves you with 1 carbohydrate, 5 protein & 1 other fat to spread across the other meals.
The free veg can be interchanged with any free vegetables of your choice for a healthy but filling dinner option.
Ingredients
400g of chicken breast
480g of potatoes washed and cut into wedges
1 teaspoon of paprika
Sea salt
4 tablespoons of olive oil
200g Broccoli
150g Courgettes
150g Red pepper
Juice of 1 lemon
Sprigs of rosemary
Directions
Set the oven at Gas Mark 6/ 200C (400F).
Place the potato wedges in a bowl. Season with the paprika, sea salt and 2 tablespoon of olive oil.
Mix well to give the potatoes an even coating. Place on a baking sheet with a few sprigs of rosemary and bake for 45 minutes.
Heat a heavy pan/grill pan. Season the chicken breasts and drizzles with remaining olive oil and the lemon juice.
Place on the hot pan and brown well on both sides, reduce the heat and continue to cook for 15-20 minutes approx., until fully cooked.
For the last 5 minutes heat a large pan or wok. Add some 1 cal spray and stir fry the vegetables for 2-3 minutes.
Serve the chicken with potatoes and vegetables.
Download your copy of the Grilled Chicken with Potato Wedges and Stir-fry Vegetables recipe here.