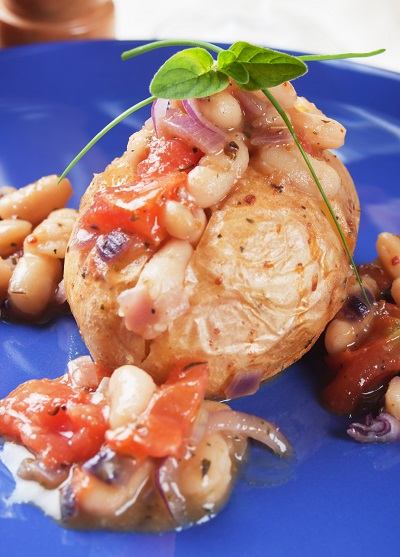 Food Plan Info
Protein: 1
Restricted Veg: 1
Carbohydrate: 1
The humble spud! This jacket potato with homemade baked beans recipe is a really healthy twist on the traditional baked potato and beans. In this recipe, we swap out the sugary bean for a homemade baked bean alternative.
Typical cans of store bought baked beans contain roughly 3.5 teaspoons of sugar per serving so it's worth taking the time to make your own.
Using naturally low GI chickpeas or butter beans means your increasing protein content too. They are also high in fibre and packed with nutrients; B vitamins, folate and minerals.
Try adding 1/2 tsp of dried chilli flakes to the bean mix to give this lunch an extra kick and help keep your metabolism on its toes!
The table below shows the amount of food group serves per personal portion of this recipe.
Protein 1
Carbohydrate 1
Restricted Veg 1
This recipe feeds 4.
Ingredients
4 small baking potatoes
1/2 tsp olive oil
1/2 small red onion diced
1/2 red pepper diced
1 clove of garlic
1 tin of chopped tomatoes (look for one with no added sugar)
1 tsp smoked paprika
2 tsp red wine vinegar
1 tin of butter beans or chickpeas drained
Handful of parsley sprigs finely chopped
Directions
Heat oven to 200C/180C fan/gas 6.
Scrub the potatoes and dry well, then prick in several places with a fork.
Bake directly on the oven shelf for 1-1½ hrs, until they feel soft when squeezed.
Alternatively you can do your potatoes 2 at a time in the microwave, wrap loosely in a damp piece of kitchen towel; cook on full power for 5 mins, flip over and cook for another 5 minutes.
Heat the oil in a small pan, add the onion and pepper, and fry gently until soft, about 10-15 mins.
Crush the garlic and add this to the pan along with the tomatoes, paprika, vinegar and beans.
Bring to a simmer and cook for 10-15 mins or until slightly reduced and thickened.
Once the potato is tender, cut open and top with a table spoon of the beans.