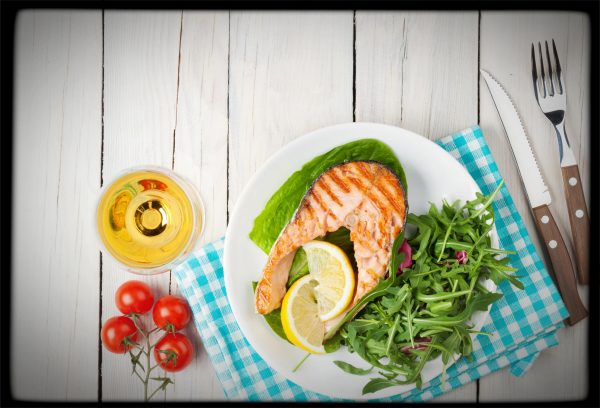 Meal Info
Serves: 4
Time: 40 mins
Food Plan Info
Protein: 2
Fruit: 1/3
Salmon is an excellent source of high quality protein, as well as vitamins and minerals. Its greatest property is its exceptionally high level of omega 3 essential fatty acids, known to improve brain function, eyesight and heart health, and to reduce inflammation and the risk of certain cancers.
Salmon is very easy to prepare and can be flavoured and cooked in many ways: baked, barbequed, poached, steamed or grilled. It's recommended that we eat oily fish twice per week so it's worth having a few simple go-to recipes you're comfortable making.
Ingredients:
360g of salmon, in 4 fillets
200 mls pure orange juice
1 ½ dessertspoons balsamic vinegar
1 teaspoon fresh grated ginger (add in extra ½ teaspoon for stronger flavour)
1 clove of garlic chopped finely (optional)
Salt and ground black pepper to taste
Method:
Preheat oven to 200 C (fan 180)
Place the orange juice in a saucepan and heat over a medium temperature. Cook and stir for about 10 minutes or until the liquid has reduced by half. Remove from heat and allow to cool.
Stir the balsamic vinegar and ginger into the orange juice and add in the garlic if you're using.
Line a medium baking dish with parchment paper and place the salmon fillets skin side down.
Season with salt and pepper and pour half the orange mixture over the fillets.
Bake the salmon in the preheated oven for 10-15minutes before removing from the oven. Pour the remainder of juice over the salmon and place back in the oven for a further 10 minutes.
This salmon dish can be served on a bed of mixed leaves as part of a salad or had with rice and vegetables as a main meal.
There you go – a tasty orange and ginger salmon recipe!