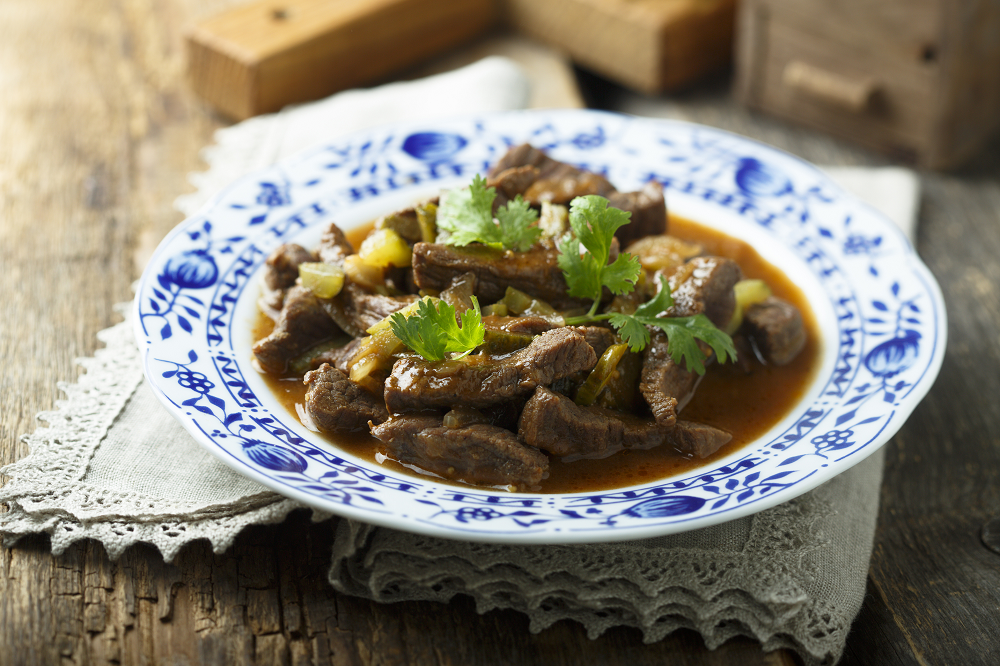 Meal Info
Time: 30 mins prep - 4 hours 30 mins slow cooker
Food Plan Info
Protein: 3
Free Veg: 1/2
Restricted Veg: 1
Fat: 1
Carbohydrate: 1
This is a very rich and flavourful slow cooker stew with a thick, red, smoky tasting sauce. Great for making a day ahead and reheating. Instead of pasta, you can serve over rice or potatoes.
It uses up 3 proteins, 1 carb, 1 fat and  your 1 restricted vegetable for the day. Leaving you with 4 proteins, 1 carb and 1 fat to use over the other 2 meals.
Smoked Paprika Goulash Ingredients
2 small onions / 1 medium onion, sliced
2 cloves garlic, chopped
2 tablespoons smoked paprika
1 teaspoons sea salt
350g Red pepper chopped
1 teaspoon coarsely ground black pepper
600g lean beef stewing steak, cubed
3 tablespoons olive oil, divided
200ml water
80g tomato puree
280g egg pasta
4 sprigs fresh parsley (optional)
Smoked Paprika Goulash Directions
Heat 1 tablespoon oil in a large frying pan over medium-high heat. Cook and stir onions until they soften and begin to brown at the edges, 8 to 10 minutes. Add the garlic and peppers and cook for one minute. Transfer mixture to a slow cooker. Cover and set cooker to low.
Mix together paprika, salt and pepper in a large bowl. Toss the meat cubes in the paprika mixture until evenly coated.
Heat one tablespoon of the oil in the same pan over medium-high heat. Put 1/2 of the beef cubes into the pan and cook until nicely browned on all sides. Transfer to the slow cooker. Pour 2 tablespoons of water into the pan and scrape the browned bits from the pan; pour liquid into the slow cooker. This prevents the paprika from burning when you brown the next batch of beef. Add another tablespoon of oil to the pan and cook the next batch the same way.
Stir the tomato puree and the rest of the water into the slow cooker; cover. Cook on high for 4 to 5 hours.
Fill a large pot with lightly salted water and bring to a rolling boil over high heat. Stir in the egg pasta, and cook uncovered, stirring occasionally, until the noodles have cooked through, but are still firm to the bite, about 5 minutes. Drain.
Serve goulash over pasta with a sprig of parsley.
Click here to download a copy of the Smoked Paprika Goulash recipe.