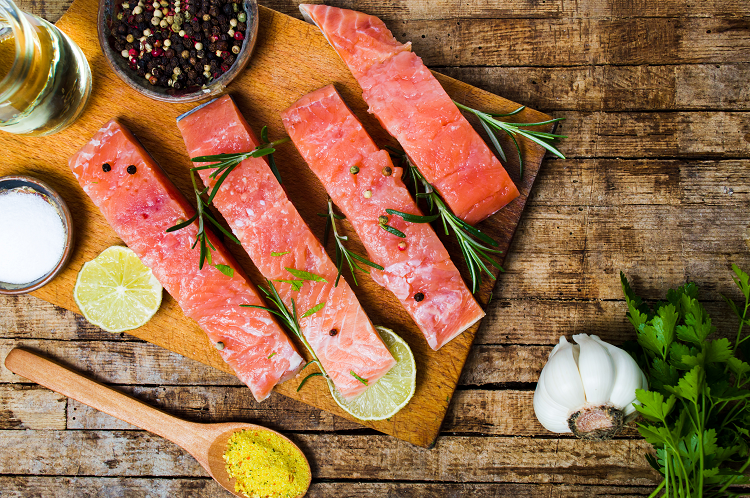 Meal Info
Serves: 4
Time: 35 mins
Food Plan Info
Protein: 3
Free Veg: 2
Restricted Veg: 1
Dairy: 1/4
This Spicy Marinated Salmon and Roasted Vegetables recipe is a really tasty & easy way to increase your intake of oily fish.
Salmon is high in omega 3, known for its anti-inflammatory properties making it beneficial for cardiovascular & brain function.
The salmon is paired with delicious roasted vegetables to increase your vitamin C & fibre intake.
If you use this recipe for your dinner on the standard boost plan, it will use your restricted vegetable for the day and ¼ of your dairy serving.
It will leave you with 4 protein servings to spread over lunch & dinner. It also leaves your 2 fat servings & 2 carbohydrate servings so you could pare it with 120g of boiled baby potatoes to use one of your carbohydrate servings!
Delicious.
Ingredients
540g of Salmon fillets
250g of natural yoghurt
2 cloves of crushed garlic
Chilli flakes as desired
Turmeric as desired
1 tbsp of Pataks tandoori curry paste
2 courgettes
1 small red onion
Tomatoes
Salt & pepper to taste
Directions
In a bowl, mix 200g of the yoghurt, with the crushed garlic gloves and the tablespoon of Pataks curry paste. Mix well until it the mixture turns pale red.
Add the chilli flakes & turmeric to the yoghurt mix as desired, a ½ teaspoon of each will give a mild kick or add more if you like a spicier dish. Add a sprinkle of salt & pepper again as desired.
Line a baking tray with foil & place the salmon fillets on the foil.
Coat the salmon with the yoghurt mix and leave to marinate in the fridge for at least an hour.
Combine the courgettes, tomatoes, onion, garlic & red chilli flakes in a separate baking dish. Spray with 1 cal spray & season with salt & pepper. Mix well
Once marinated, place salmon fillets in a preheated oven for about 20 minutes or until salmon flakes easily.
Place the prepared veg in the oven & roast until vegetable are tender and slightly golden, about 18-20 mins. They should be ready the same time as the salmon for the perfect tasty dish.
Use any leftover natural yoghurt to drizzle over the salmon fillets.
Download your copy of the Spicy Marinated Salmon and Roasted Vegetables recipe here.