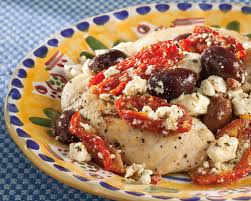 Feta and Tomato Chicken
Feta and Tomato Chicken: This chicken dish is full of delicious flavours provided by the mix of herbs and sun-dried tomatoes mixed with feta cheese. It is low in calories, high in protein and low in saturated fat making it a perfect choice for healthy eating.
Ingredients:
4 chicken breast halves (Approx 6oz breasts x2)
2 cups of water
½ cup sundried tomatoes (without oil)
2 oz feta cheese (Approx ½ cup)
2 teaspoons chopped fresh basil
1 teaspoon chopped oregano
½ teaspoon finely chopped garlic
¾ teaspoon freshly ground black pepper
½ teaspoon kosher salt
½ teaspoon grated lemon rind
¼ cup chicken stock
2 teaspoons finely chopped basil
2 teaspoons butter or light spread (optional)
Method:
Preheat oven to 425 degrees F (220 degrees C)
Bring 2 cups of water to boil in saucepan . Add tomatoes.
Remove from heat and leave to stand for two minutes.
Drain and slice into thin strips.
In a bowl combine tomatoes, cheese, basil, oregano, garlic and quarter teaspoon of pepper.
Place chicken breast in cling film and pound until flat.
Cut a horizontal slit in each half to form a deep pocket.
Stuff a quarter mixture into each of the four chicken breast halves.
Sprinkle with a little salt and remainder of pepper.
Cut four squares of tinfoil for each piece of chicken.
Put half teaspoon butter on each piece of foil and place chicken on top.
Place 1/8 teaspoon lemon rind and one tablespoon chicken stock on top of each chicken piece.
Fold foil around making 4 parcels. Tightly seal edges.
Bake in preheated oven for 20 minutes.
Remove, open packets carefully and slice each chicken half.
Serve on bed of green salad. Garnish with a sprinkling of basil.