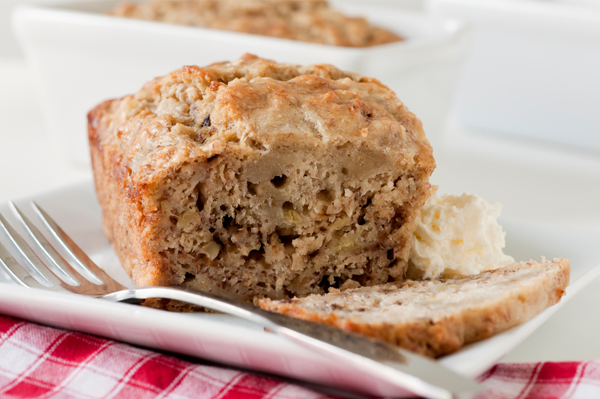 If you're planning on having a few friends over for morning coffee or afternoon tea, why not try out some healthy cakes that are full of flavour, low in calories and simple to prepare. Kids can enjoy a sweet treat with more natural ingredients, and they can be kept for a few days in airtight containers.
The most popular one that I have come across is healthy Banana Bread and later in the week we will be sharing another delicious sugar free cake for you to try out.
Healthy eating doesn't mean you can't enjoy an odd sweet treat in moderation of course, the two things can easily be combined if you can avoid buying cakes and give fifteen minutes to prepping your own. There's nothing better than entering a house and being met with the aroma of home baking wafting from the kitchen.  If the basis of your recipe is natural sugar found in fruit, then you're off to a good start. Swapping white flour to wholemeal adds dietary fibre as well as several B vitamins that can be destroyed in the refining process.  Bananas contain fibre, potassium, vitamin C and B6 which support heart health. Bananas also contain tryptophan, an amino acid that studies suggest play a role in boosting mood and memory. They are good for bowel health and the vitamin A content helps protect eyes and promote normal vision.
Ingredients
4 medium very ripe bananas
2 teaspoons of baking powder
½ teaspoon of baking soda
2 cups of whole-wheat flour
½ teaspoon of cinnamon
1-2 eggs
2/3 tablespoons sunflower oil
½ cup of unsweetened orange juice
2/3 tablespoon of walnuts (chopped up small)
You can add 1 tablespoon canderel or stevia if you prefer extra sweetness.
Directions
Preheat oven to 360 degrees (180 degrees or 160 degrees for fan oven)
Combine flour, baking powder, baking soda, and cinnamon in a bowl. Stir together.
Place ripe bananas in a blender and blend until smooth.
Mix the coconut oil, orange juice, walnuts, egg and sweetener together, add the bananas and flour mixture and fold in well.
Spray loaf tin with oil spray.  Pour mixture in.
Bake for 40-50 minutes.
Cool on a wire rack and enjoy.
FOR MORE ABOUT HOW MOTIVATION CAN HELP YOU REACH YOUR WEIGHT LOSS GOALS CONTACT YOUR LOCAL CLINIC.