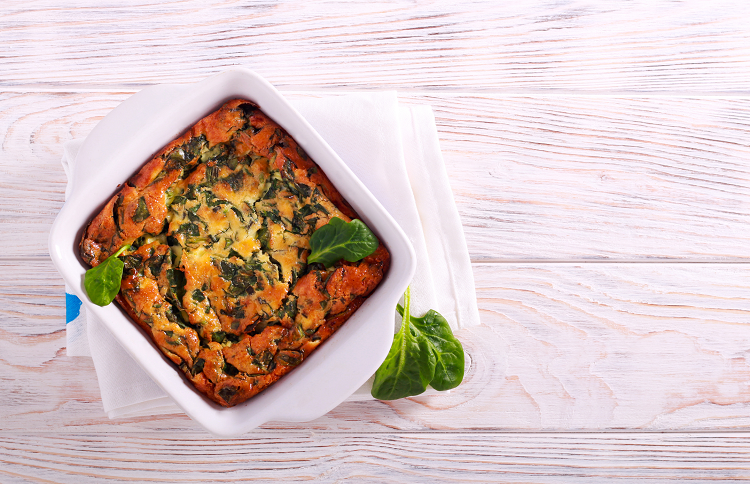 Meal Info
Time: 1 hour 20 minutes
Food Plan Info
Protein: 2
Free Veg: 2
Restricted Veg: 1/4
Dairy: 1/8
Turkey sausage is a great alternative to pork for those trying to lose weight. This is because of the lower fat content, approximately half of that in a pork sausage.
Turkey sausage also contains a large number of vitamins and minerals including vitamins A, C, E, B6 and B12. It also contains more protein per serving than pork but do note that it is higher in sodium. Turkey sausage provides good levels of folate, thiamine, niacin and riboflavin.
Healthy Egg Sausage Bake Ingredients:
160 grams/4 Turkey sausages
½ small onion (chopped up small)
½ red bell pepper (chopped up)
1 clove garlic (finely chopped)
1/2 bag spinach or kale
4 eggs
150 grams sliced mushrooms (optional)
½ cup milk (almond milk works well)
½ teaspoon dried basil leaves
Pinch of salt & pepper
Tinfoil
Healthy Egg Sausage Bake Directions:
Preheat oven to 180 degrees Celsius
Bake sausages for 15 – 20 minutes. (Leave oven on at this temp)
Meanwhile place mushrooms, peppers, onion, and garlic in pan over medium heat for 5-6 minutes until soft. Stir in spinach or kale.
Chop sausage and add to pan. Stir.
Pour sausage mixture evenly into a baking dish.
In medium bowl beat eggs, milk, basil, salt and pepper. Pour this over sausage mixture.
Cover with foil.
Place dish in oven for 45 minutes. Remove tinfoil and bake for further 10 to 15 minutes.
Click here to download a copy of the Healthy Egg Sausage Bake recipe.