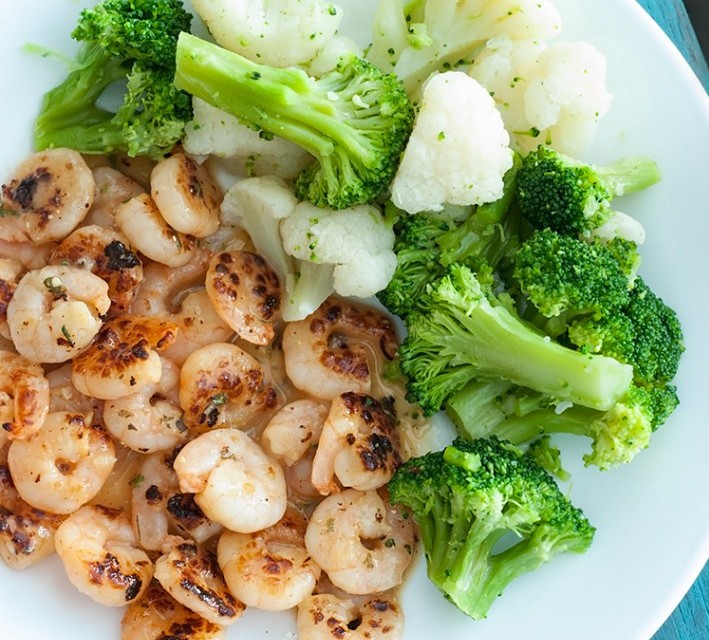 Meal Info
Serves: 4
Time: 10 mins
Food Plan Info
Protein: 1
Fat: 1/2
This healthy Italian prawn recipe is one of those go-to recipes when you need to have lunch or dinner ready in a pinch. It takes just minutes to make, you probably have all of the ingredients on hand, and there's very little clean-up! It's as simple as sauté, mix and serve over a salad or with vegetables of your choice.
Prawns are a great source of protein, they're low in saturated fat and low in calories. They are a good source of Omega 3 fatty acids which are known to promote heart health and are also great in aiding circulatory problems. Also rich in the mineral selenium, required for healthy functioning of the thyroid gland, and which research has shown may help protect against free radical damage and their effect on cancer.
Ingredients
2 garlic clove, chopped
1 1tbsp olive oil
½ teaspoon salt
½ tsp oregano
½ tsp rosemary
360g medium prawns, fresh or frozen is fine.
Instructions
Heat sauté pan on medium heat and add the olive oil
Once hot, add in the garlic along with the prawns
Add in your seasoning to the pan as the prawns start to cook
Stir and flip the prawns to make sure they are cooked through evenly on both sides until pink. This should take no longer than 2-3 mins, avoid overcooking or they will go rubbery.
Remove the mixture from the pan and serve over your salad or with your vegetables of choice.