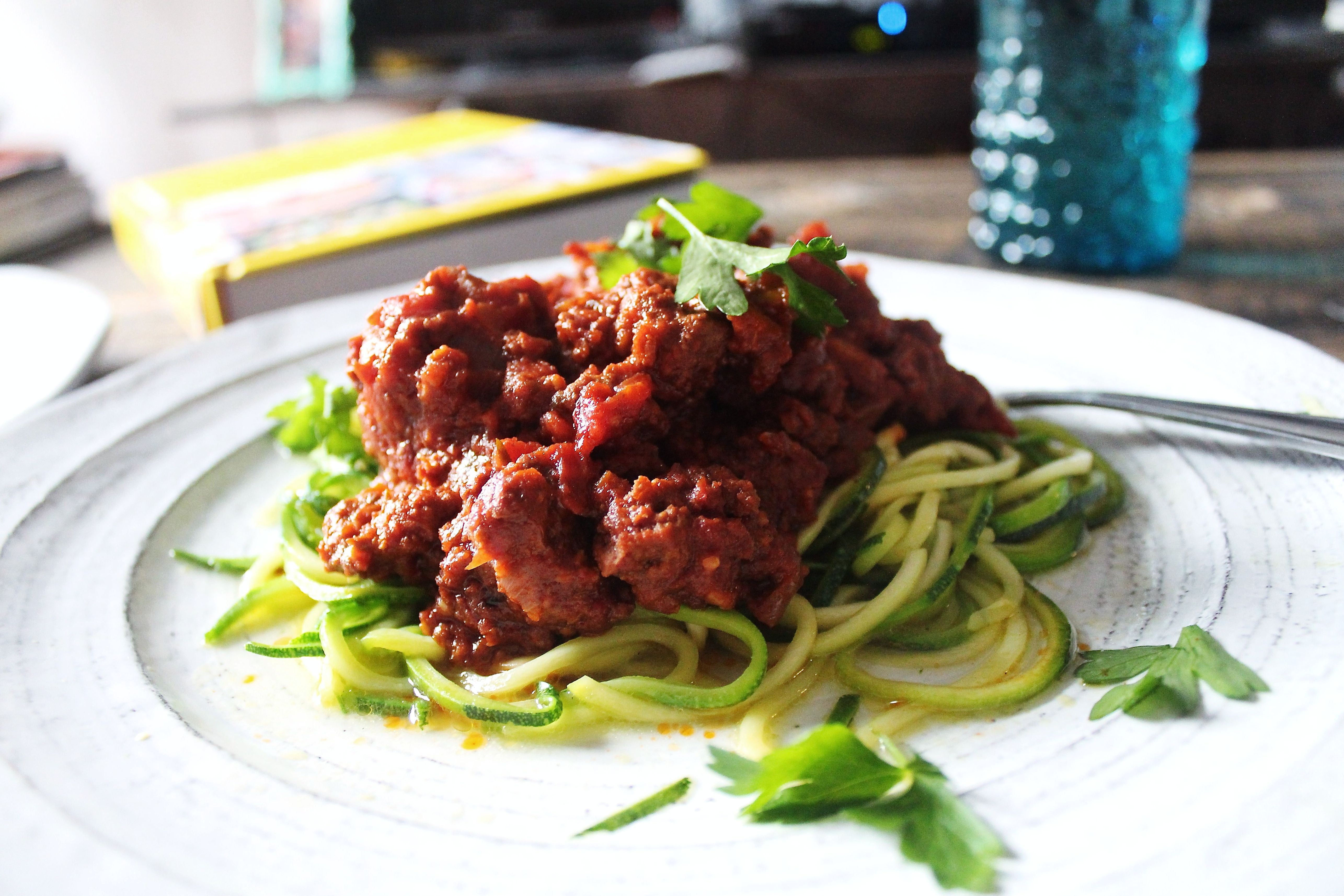 Meal Info
Serves: 4
Time: 25 minutes
Food Plan Info
Protein: 3
Free Veg: 2 1/2
Restricted Veg: 1
This courgetti bolognese weight loss recipe is so filling yet refreshing, full of flavour – and by using courgette instead of pasta means you will save yourself a heap of calories and you won't finish up with that awful bloated feeling that we all hate.
A typical plate of spaghetti can easily provide 100 to 150 grams of carbohydrate and we know by now that if we load up on carbs the effects it can have on slowing down our weight loss goals. If you want to enjoy spaghetti without eating an overdose of carbs, courgette can be a great low-carb substitute and what a nutritious substitute they make below are all the reasons why you should be increasing your intake of this versatile veg!
Courgettes are full of fibre, which promotes healthy digestion (with just one serving you get about 10% of your daily-required dose) and better again, the fibre content of this vegetable doesn't reduce when they are cooked.
Courgettes also help to boost your immune system as they're full of vitamin C providing about 1/3 your required daily dose.
They also contain approx. 10% of your daily potassium, which is essential for maintaining healthy heart function and blood pressure, as well as helping to prevent muscle cramping after exercise; and 10% of your manganese, which is important for a healthy metabolism.
Courgettes also contain high levels of antioxidants, which are important for maintaining healthy skin.
Their wonderful combination of a whole lot of other nutrients also makes them particularly good for healthy blood sugar regulation and energy absorption and muscle repair, as they contain an array of B-complex vitamins, zinc, magnesium and omega-3 fatty acids.
So, swap your pasta for courgette today and start reaping the health and weight loss benefits of this underestimated green veg!
Ingredients
2 large onions(400g) finely chopped
200g button mushrooms thinly sliced
2 garlic cloves crushed
½ tsp paprika
1 ½ tsp oregano
360g lean beef mince
1 x 400g can chopped tomato
250 ml beef stock
1 level tbsp Worcestershire sauce
3 medium courgettes (500g)
Low calorie cooking spray
Salt and pepper
Directions
Spray a pan with low calorie cooking spray and cook the onions and garlic for 2–3 minutes until just softened.
Stir in the mince and cook for 3–5 minutes until browned. Stir in the mushrooms and cook for 1 minute.
Add the chopped tomatoes, stock and Worcestershire sauce. Season lightly and bring to the boil.
Reduce the heat and simmer for about 15 minutes until reduced and thickened. Check the seasoning.
Meanwhile, prepare the courgette. Wash your courgettes and cut off both ends.
If you have a vegetable spiralizer, spiralize courgettes into a large bowl. Or you can buy courgetti in pre made bags.
Spray a large pan with low cal cooking spray on a medium to high heat and add spaghetti sliced courgette, season with salt.
Stir to cook for 3-5 mins.