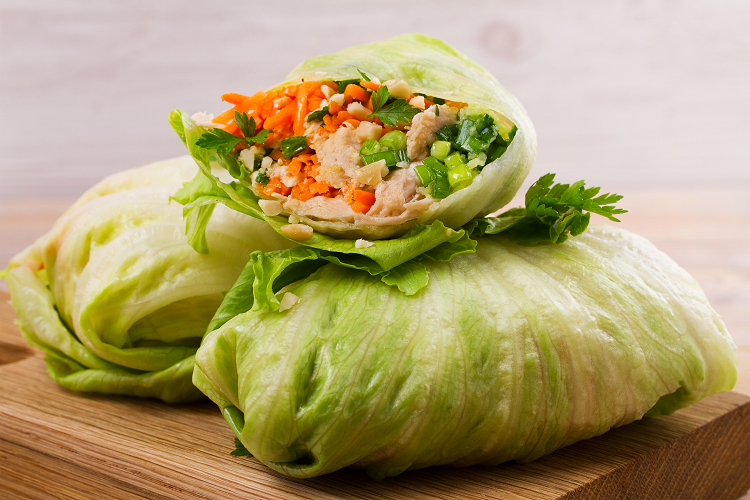 Meal Info
Serves: 4
Time: 30
Food Plan Info
Protein: 2
Free Veg: 2
Restricted Veg: 1
These Asian Turkey Lettuce Wraps are bursting with flavor and have so many great ideas to go with them.
Having them as a quick snack after school, meal prep for the week, gathering friends over for a savory appetizer or enjoying them with your family gathered around the table. The ideas are endless!
They are quick and easy to cook but also simple to put together and eat all under 30 minutes.
I love meals that are satisfying and quick for a busy week schedule! This meal has no carbohydrate but uses 2 of your protein servings, your restricted veg serving and bulks up with 2 free veg servings.
Ingredients for Asian Turkey Lettuce Wraps
–  480g ground turkey
– 50g shredded carrots
– 150g of mushrooms coarsely chopped
– 200g of sliced water chestnuts drained and coarsely chopped
– 2 (50g) green onions chopped
– 1 clove garlic minced
– 3 Tablespoons hoisin sauce
– 2 Tablespoons low sodium soy sauce
– 1 tablespoon rice wine vinegar
– 2 teaspoons red chili paste
– 12 butter lettuce leaves, Boston and iceberg also work
Instructions for Asian Turkey Lettuce Wraps
1. In a medium sized skillet over medium high heat, add the ground turkey. Cook and crumble until it is almost cooked throughout. Add carrots, mushrooms, water chestnuts, green onions and garlic. Continue to cook for 1-2 minutes until turkey is cooked and veggies are tender.
2. Add the hoisin sauce, soy sauce, rice wine vinegar, and chili paste. Stir and let simmer for 1-2 minutes. Serve on butter lettuce leaves or fold into nice wraps with the iceberg lettuce (great for the lunch box.)
Click here to download your copy of the Asian Turkey Lettuce Wraps recipe