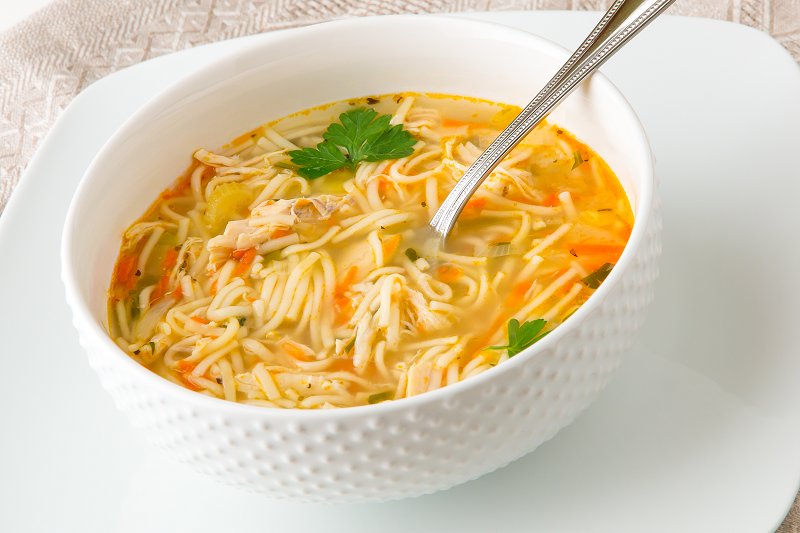 Meal Info
Serves: 4
Time: 20 mins
Food Plan Info
Protein: 1
Restricted Veg: 1
Carbohydrate: 1
Brrrrrrrr
By Joanne Delaney
So this week we had no weigh in, the snow had us all locked in our nice cosy homes with roaring fires and lots of warm meals.
My god we were unprepared for that snow blanket! We had about 4 foot of it!
The first day it was fab so lovely to look at, but by day 3 of lock in, I was going slightly mad!!!
I hope you kept yourself warm and didn't go too stir crazy!
Speaking of Stir crazy, I decided that while cooped up in the house I could try a few new recipes to see which worked best, but as we were snowed in and I couldn't get to the shops I had to make do with what was in the cupboard – which didn't turn out too bad…my chicken noodle soup.
Ingredients
1lt low-sodium chicken broth
1 onion, finely sliced
2 carrot, finely sliced
2 stalks of celery, chopped
1 teaspoon dried basil
1 teaspoon dried oregano
1/4 teaspoon black pepper
1 tsp fresh grated ginger
1 bay leaf
300g dried egg noodles
 2oog cooked chicken, chopped
Directions
In a large pot combine the chicken broth, onion, carrot and celery. Season with the ginger, 1 tsp each of the dried basil and oregano, 1/4 tsp black pepper and 1 bay leaf; bring to boil.
 Cover and simmer 5 minutes.
Add the dried egg noodles. Cover and simmer 8 minutes; discard bay leaf.
Add the chopped cooked chicken breast and simmer for a further 5 minutes until it heats through.
Serve the chicken noodle soup and enjoy!