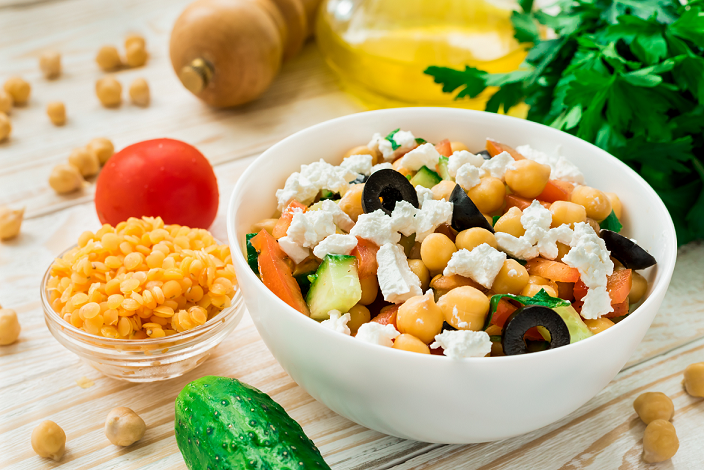 Meal Info
Serves: 4
Time: 20 mins
Food Plan Info
Protein: 3
Free Veg: 2
Restricted Veg: 1
Fat: 2
Carbohydrate: 1
This is a really filling tasty summer salad. It could be used as a lunch or is filling enough for a dinner. It does use up your 2 fat servings and 1 of your carbohydrate servings but as long as you are conscious of that with you other two meals, it is a great choice for those lazy summer evenings and the oven gets a rest.
Best of all it can be used again over the next two days for meals with no need to reheat.
Ingredients for Summer Chickpea Salad
280g whole wheat pasta
480g chickpeas
1 medium red pepper
1 yellow pepper
200g cherry tomatoes cut in half
½ whole cucumber
120g feta cheese
120g black olives
1 medium red onion
1 handful parsley
Dressing
2 tbsp olive oil
15 ml apple cider vinegar
1 pinch sea salt
1 dash honey
Instructions for Summer Chickpea Salad
In a large pot of boiling water, cook the pasta for 10 minutes, drain and leave to cool.
In a large bowl, combine the chickpeas, peppers, tomatoes, cucumber, feta cheese, onion, olives, parsley and the pasta.
For the dressing mix all ingredients in cup, add to the bowl and gently stir.
Serve straight away, or cover and place in the fridge, consume within 2 days.