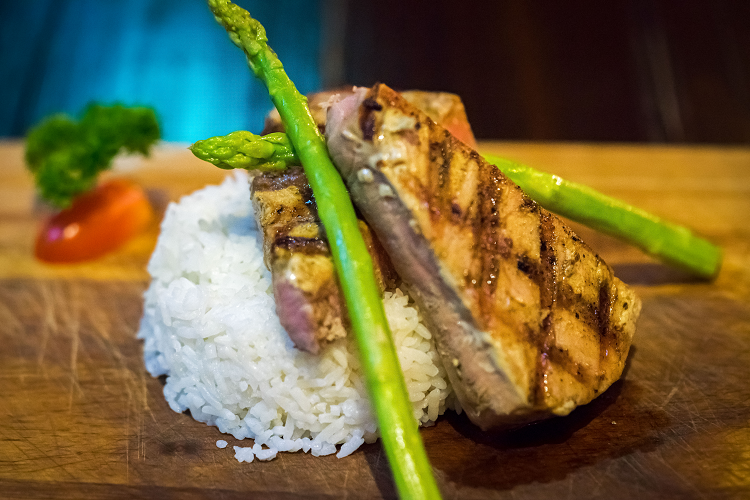 Meal Info
Serves: 4
Time: 45
Food Plan Info
Protein: 3
Fat: 1/2
Carbohydrate: 1 (if using Rice)
Tuna is a source of high-quality protein with almost no fat. It contains all essential amino acids required by the body for growth and maintenance of lean muscle tissue.
Tuna also contains Omega 3 fatty acids known for their anti-inflammatory properties and is rich in potassium, manganese, vitamin C & zinc. A perfect reason to rustle up this delicious yet simple recipe that all the family is sure to love.
Ingredients for Grilled Tuna Steaks
– 2 tablespoons lemon juice
– 1 tablespoon olive oil
– 2 garlic cloves, minced
– 2 teaspoons minced fresh thyme or 1/2 teaspoon dried thyme
– 4 tuna steaks (210g each)
– 1/4 teaspoon salt
– 1/4 teaspoon pepper
Instructions for Grilled Tuna Steaks
1. In a large resealable plastic bag, combine the lemon juice, oil, garlic and thyme. Add the tuna; seal bag and turn to coat. Refrigerate for up to 30 minutes, turning occasionally.
2. Remove tuna from bag; sprinkle with salt and pepper. Drain and discard marinade. Moisten a paper towel with cooking oil; using long-handled tongs, lightly coat the grill rack.
3. Grill tuna, covered, over medium-hot heat for 3-4 minutes on each side for medium-rare or until slightly pink in the center.
4. Serve with 65g of basmati rice and free vegetables of your choice.
Click here to download your copy of the Grilled Tuna Steak recipe