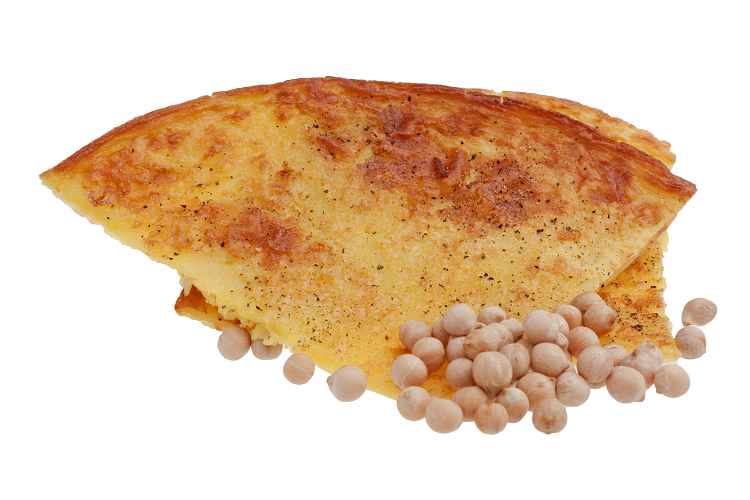 Meal Info
Serves: 4
Time: 20 mins
Vegetarian: Yes
Vegan: Yes
Food Plan Info
Protein: 1.5
Free Veg: 2
This delicious savoury chickpea pancake is not only vegan but gluten free, grain free, oil free and refined sugar free. Chickpea flour is high in protein with 7 grams per ¼ cup  and high in fibre with 3 grams per ¼ cup making it a tasty and filling breakfast or lunch option.
This recipe will use up 1½ of your protein serving if used for breakfast leaving you with 5½ protein for the rest of the day.
You could use up one of your fat servings for the day and serve this delicious pancake with 1.5 tablespoons of low fat plain or red pepper hummus or some chopped avocado.
Ingredients for Savoury Chickpea Pancake
90g of chickpea flour
250 mls of water
½ Heaped teaspoon of baking powder
Juice of ½ small lemon
½ teaspoon of cumin
¼ teaspoon of Garlic powder
Salt to taste
150g of spinach chopped
100g of scallions & tomatoes chopped fine
Instructions for Savoury Chickpea Pancake
Preheat griddle or pan and spray with 1 Cal spray.
In a bowl combine flour, water, baking soda, cumin, garlic powder & salt. Mix well and ensure all lumps are gone.
Add in lemon and stir (the batter will rise and foam a bit).
Add in veggies and combine thoroughly.
Pour ¼ mixtures on the preheated pan, it may look like there are more veggies than mixture but the batter will puff up from the baking powder and look fluffy and full.
Cook for 5 minutes.
Click here to download your copy of the savoury chickpea pancake recipe.