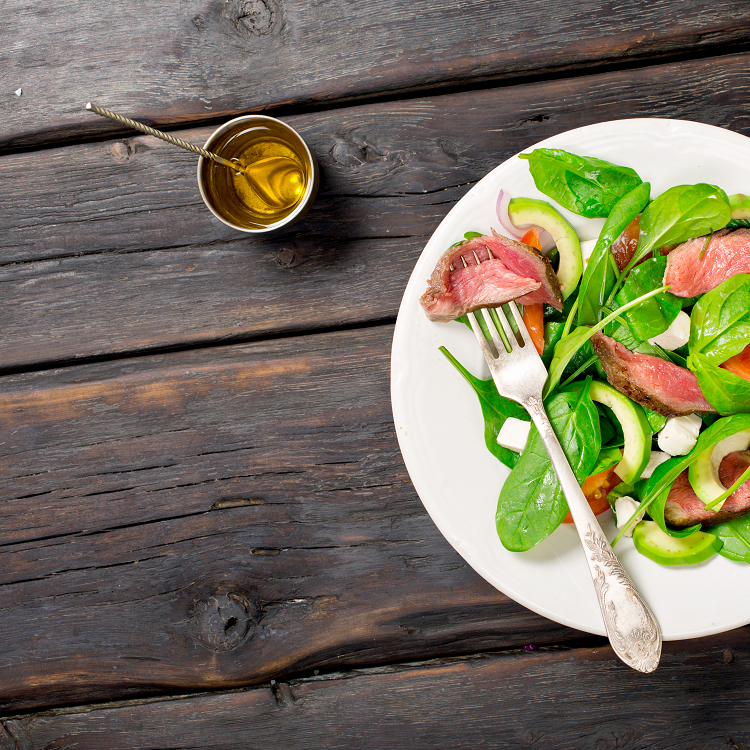 Meal Info
Serves: 4
Time: 25
Food Plan Info
Protein: 3
Free Veg: 2
Fat: 1
This recipe is so tasty and perfect for these warm summer evenings. It is packed with protein using 3 of your 7 protein servings, 1 fat serving and 2 free vegetables servings.
This recipe will truly impress any summer visitors and it is so quick and simple to make; it's an all-round winner.
Ingredients for Steak and Aubergine Salad
–  1 aubergine halved length-ways & cut into thin slices
– 2 tbsp. of flour
– 2 tbsp. of olive oil
– 400g of lean steak
– 200g of lamb's lettuce or spinach leaves
– 120g of feta cut into cubes
Dressing for Steak and Aubergine Salad
–  1 green chilli halved & chopped
– ½ lemon juiced
– ½ small pack (15g) of coriander
– ½ small pack(15g) of mint leaves
Instructions for Steak and Aubergine Salad
1. Dust the aubergine slices in the flour, mixed with some seasoning.
2. Heat 1 tbsp. of the olive oil in a large frying pan until shimmering. Add the aubergine to the pan and fry for a few mins on each side until collapsing and soft, then set aside.
3. Turn up the heat, season the steak, then add to the pan and fry for 2 mins on each side for rare (longer if you want it medium). Set aside to rest for 5 mins, then slice
4. Blitz the remaining olive oil in a blender or small food processor with the rest of the dressing ingredients and a splash of water.
5. When ready to serve, mix half the dressing with the lamb's lettuce / spinach, and then tip onto a plate. Top with the crispy aubergine and steak, crumble over the feta, and then drizzle over the remaining dressing.
6. Scatter over any remaining herbs and serve.
Click here to download your copy of the Steak and Aubergine Salad recipe